Quanta Reportedly in Line to Produce Larger iPad for Late 2014, iWatch for 2Q 2014
Following a September report stating that Apple may be working with Quanta Computer to develop a larger-sized iPad, Digitimes is now reporting that the Taiwanese-based manufacturer has landed the contract to mass-produce the tablet for the second half of 2014. Just last week, a report had claimed that the larger iPad was being targeted for an early 2014 launch.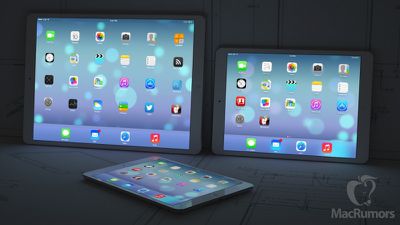 Mockup of 12.9-inch iPad next to iPad Air and iPad mini
The article also mentions that Quanta is expected to face difficulties when assembling the larger iPad because of its unique industrial design and assembly, which could also lead to constrained supplies:
Quanta is expected to encounter several challenges in terms of industrial design and assembly when making the large-size iPad. And since the size is not the mainstream specification, order volumes are expected to be limited, the sources said.
Component makers have also reportedly started pilot production for the iWatch, although low yields are rumored to be the reason behind delaying mass production of the device from Q1 2014 to Q2 2014. Quanta, Inventec, and Foxconn are said to be competing for iWatch production orders.
Last week's report from The Korea Times indicated that production of a 12-9-inch Retina Display to be used in a next-generation iPad was already underway at an Apple supplier in Korea. The larger tablet is also said to carry an improved display nearing ultra high-definition (UHD) quality, which would be significantly bigger and contain many more pixels than Apple's current 9.7-inch iPad Air.
Meanwhile, iWatch reports have surfaced occassionally in the past couple of weeks, with Apple rumored to be releasing both 1.7 and 1.3-inch display sizes of the watch for men and women. NPD DisplaySearch analyst Paul Gagnon also noted that Apple appears to have put its major television product plans on hold for the time being in order to focus on wearables such as the iWatch.