Apple Suppliers Said to Begin Production of 12.9-Inch Retina Display for Early 2014 'iPad Pro'
An official at an Apple display supplier in Korea has told the The Korea Times (via Unwired View) that production of a 12.9-inch Retina Display to be used in the next-generation iPad is underway, with the tablet's release set for early next year. The report states that the 12.9-inch iPad will have an improved display nearing ultra high-definition (UHD) quality, which would be significantly bigger and contain many more pixels than Apple's current 9.7-inch iPad Air.
"Apple's local first-tier display supplier is now producing a 12.9-inch Retina Display to be used in the new iPad, which will be coming out sometime early next year," an official at a local Apple supplier in Korea told The Korea Times by telephone Tuesday.

..."The 12.9-inch iPad will have improved picture quality. As the Apple partner intends to boost its lineup for displays that have almost ultra high-definition (UHD) quality, the upcoming iPad will provide very clear quality similar to that of UHD," said the official.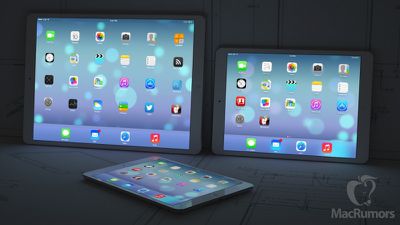 Mockup of 12.9-inch iPad next to iPad Air and iPad mini
Reports of a 12.9-inch iPad have surfaced occasionally throughout the past couple of months, with
The Wall Street Journal
reporting in July that Apple and its suppliers had begun testing screens for a 12.9-inch iPad and a larger iPhone, which followed a
sketchy rumor
in May that said Apple was launching an "iPad Maxi" to target the ultrabook market. Supply chain research done by NPD DisplaySearch in October also
suggested
that a 12.9-inch iPad is set for debut next year, though that report did not specify when exactly the tablet would be released.
However, KGI Securities analyst Ming-Chi Kuo countered reports about a larger iPad in a research note last month, stating that he expects the company will instead release a new sixth-generation 9.7-inch iPad with 30%-40% higher pixel density than Apple's current iPad line. Apple just released the iPad Air and iPad mini with Retina display earlier this month, with the latter experiencing supply constraints, and a new "iPad Pro" would expand the iPad family to encompass three sizes.