Apple Testing Screens for a Larger iPhone and a 13-Inch iPad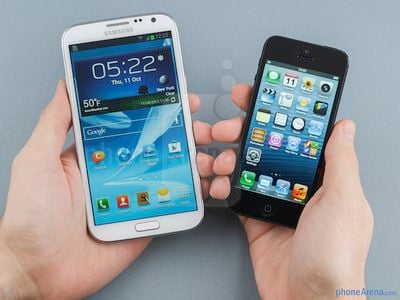 5.5-inch Samsung Galaxy Note II vs. iPhone 5 (Source: phoneArena.com)
The
Wall Street Journal
reports that Apple and its suppliers are testing larger screens for both the iPhone and iPad:
In recent months, Apple has asked for prototype smartphone screens larger than 4 inches and has also asked for screen designs for a new tablet device measuring slightly less than 13 inches diagonally, they said. The current iPhone 5 has a four-inch screen, while the iPad has a 9.7-inch screen. The iPad Mini, a stripped-down version of its tablet computer, has a 7.9-inch screen.
Reports of larger screen sizes for Apple's iPhone model are not new. Multiple reports have already suggested that Apple has been experimenting with screen sizes as large as 5.7" for the iPhone.
However, only one previous rumor, which we classified as "sketchy" emerged in May that pinpointed a 12.9" size for a future iPad.
The larger iPad, which the site apparently in all seriousness says would be called "iPad Maxi", would launch in the first half of 2014 and be intended to target the ultrabook market as well as increase utility for digital textbooks.
While we dismissed that rumor before, the Wall Street Journal's sources apparently confirm the testing of this large almost 13" screen size. The newspaper does explain that these new designs may never make it to market.
Meanwhile, they say the new 2013 iPad will be ramping up later this month. This year's iPad will use the same 9.7" screen, but with a lighter and thinner display structure.