Apple Prepping to Launch New iPhone Incentive Programs, Has an 'Army' of Products in the Works
Apple executives Tim Cook, Eddy Cue, and Craig Federighi spoke to Apple Retail Store leaders about upcoming changes to Apple's iPhone marketing tactics during a summit at San Francisco's Fort Mason on June 27, reports 9to5Mac.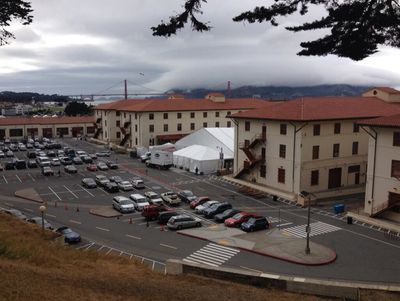 A photo taken of the Fort Mason meeting, via Noble Brown.
During the meeting, CEO Tim Cook noted 80% of iPhones are sold at third party locations, a figure that he would like to improve in the future with new iPhone promotional tactics.
The iPhone is Apple's central "gateway product" to other devices like iPads and Macs, so it is critical that the Apple smartphone is sold via an Apple Store so new customers are immediately exposed to iPads, Macs and other devices on the showroom floor. Even though 80% of iPhones are not sold at Apple Stores, 50% of all serviced iPhones are troubleshooted, repaired, or replaced at Apple Store Genius Bars. Cook reportedly hinted that he would like those numbers to be more in line.
Apple is planning to boost iPhone sales with various incentive programs, including the recently launched Back to School promotion that includes the iPhone for the first time and an upcoming in-store trade-in program. The company may also extend its price matching policies, which debuted in the U.S. last summer, internationally.
Along with new iPhone discount and sales strategies, Apple also plans to heavily market iOS 7 when it is released in the fall and introduce new retail locations in Europe.
According to store leaders who were at the summit, Apple has an "army of new products" in the works, which may include the upcoming iPhone 5S, a redesigned fifth generation iPad, a low cost iPhone, and a refreshed line of MacBook Pros, among other products.