High-Resolution Renderings of Apple's Lower-Cost Plastic iPhone
While Apple has been rumored for some time to be planning to launch a lower-cost iPhone available in multiple colors with a plastic shell, reports have been picking up steam in recent weeks, led in part by a claim that Apple will be adopting the bright colors it used for its iPhone 4/4S bumpers. That report was followed by leaked design drawings from a case maker showing the expected measurements and physical features of the device.
And just this past weekend, several new images were posted to Chinese forum site WeiPhone showing what may be rear shells from the lower-cost iPhone in yellow, red, and green.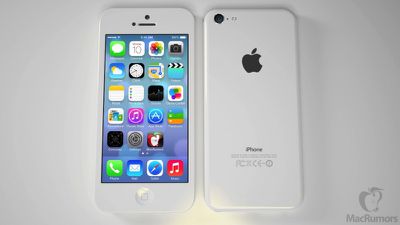 Rendered mockup of lower-cost plastic iPhone front and back
(Click for larger)
Based on all of this recent information, we once again commissioned
Ciccarese Design
to produce some high-quality mockups intended to capture the lower-cost iPhone's size, shape, and texture given that it will mark a departure from the nearly all metal and glass bodies of recent iPhone models.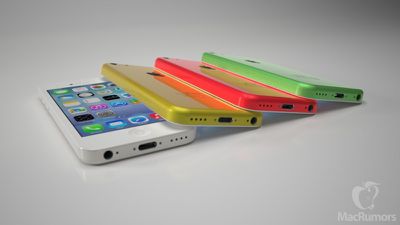 Rendered mockup of lower-cost plastic iPhone in white, yellow, red, and green
(Click for larger)
The renderings show a slightly thicker device than the iPhone 5, measuring at 8.5 mm thick compared to 7.6 mm for the iPhone 5. The lower-cost iPhone is also slightly taller and wider than the iPhone 5 to account for the thicker plastic shell.

Rendered mockup of lower-cost plastic iPhone in green
(Click for larger)
Physical features are very similar to those of the iPhone 5, although the volume buttons appear to be shifting from the round design seen on recent iPhone models to pill-shaped, and the speaker and microphone holes along the bottom edge will also see a simpler design compared to the iPhone 5.
Apple is expected to launch its iPhone 5S flagship device later this year, most likely around the same September-October timeframe seen the past two years. The company's lower-cost iPhone is likely to make its debut at around the same time, offering an updated more affordable option for consumers, particularly in markets where carrier subsidies are uncommon.