2012's Biggest iPhone, iPad, and iPod Leaks and Rumors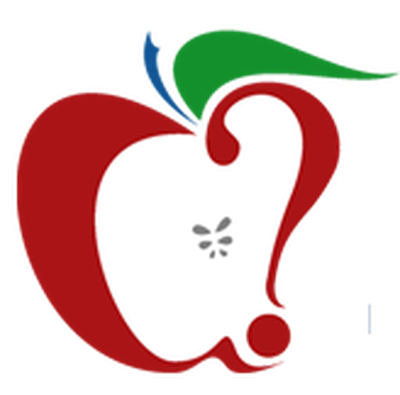 Despite claims from Apple CEO Tim Cook that the company was going to "double down on secrecy on products", 2012 may have been one of Apple's leakiest years so far.
The leaks seem to stem primarily from Apple's supply chain in China. While we were saturated with iPhone 5 and iPad mini parts in 2012, we also had early looks at Apple's iPod and Mac lines. As usual, the challenge is the relatively high noise to signal ratio when tracking rumors.
Here are a collection of some of the more notable and accurate iPhone, iPad and iPod rumors from 2012.
iPad 3
The move to a Retina display for the iPad 3 was not necessarily a foregone conclusion prior to its launch. Despite the move to "Retina" on the iPhone, the sheer volume of pixels needed for a Retina iPad generated considerable doubt. One forum commenter from February:
Do people honestly think this is going to happen?

If it did ship with a 2048x1546 display, then it would be capable of rendering images at a higher resolution than all video game consoles currently on the market.

However, game developers already struggle to produce games that run at 1920x1080 due to the power of the consoles - are people seriously saying that they think iPad 3 will have a better CPU and GPU than PlayStation 3 / Xbox 360?
Thanks to Apple's leaky supply chain, we were able to actually purchase a purported iPad 3 Retina replacement display from an online retailer and place it under a microscope, effectively confirming the rumors of a Retina iPad display: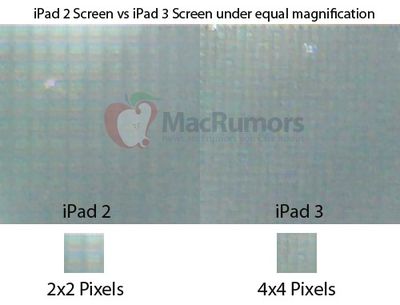 The rest of the third-generation iPad parts also leaked, providing a nearly complete picture of the final design:
rear shell
,
display
,
logic board
,
case photos side-by-side
:


iPhone 5
Apple's iPhone 5 design decisions were perhaps the most controversial changes to Apple's lineup this year. Despite persistent rumors about the new taller 4" display, many held out that Apple wouldn't ever make such a change.
What's most interesting is that the first look at the taller 4" iPhone 5 came as early as May 3 -- over four months prior to its launch. iLounge had provided these mockups of the next generation iPhone: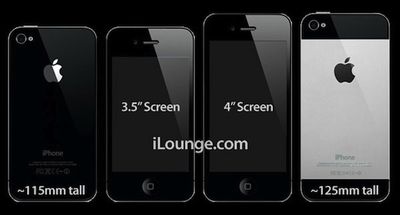 Those mockups generated
considerable doubt
amongst some commenters:
Apple has 600K+ apps designed for 3:2. They've railed about Android fragmentation. There's no way in hell that they're changing the aspect ratio now. Larger screen? I'll buy that. But they'll be expanding it in both directions. In the mockups there's still the standard bevel on the left and right sides of the screens. You really think they'll expand upwards before using all of that space? My prediction is a 4" screen, same 960x640 resolution, screen goes right up to the side edges, slightly taller and wider device.
Of course, that initial report was followed by rendered mockups, design specs, parts on video, and corresponding cases. We even saw the full final enclosure prior to the device's launch: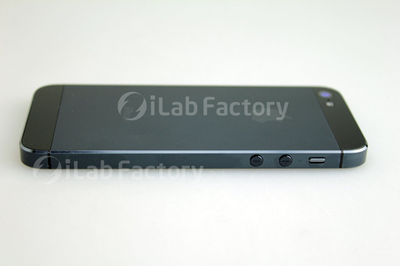 iPod nano
Two months before it launched, we saw the first mockups showing a major redesign for the iPod nano that would make the device appear more like a small iPod touch.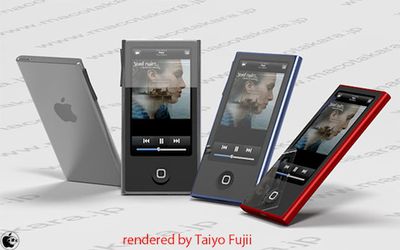 iPod Nano with home button
- July 2012. (
actual product
)
The mockups turned out to be quite accurate, as were
case designs
that manufacturers were working on in the lead-up to Apple's September media event where it introduced the new iPod nano.
iPod touch
In the wake of its iPod nano report, Mac Otakara also published a mockup of the new iPod touch, carrying a 4-inch display and buffed aluminum shell. The report also identified a "small hole" on the lower rear of the device that had an unknown purpose.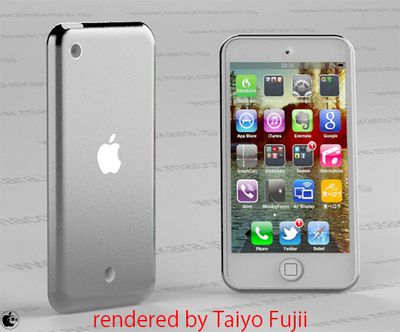 iPod touch with 4-Inch Display
and aluminum back - July 2012 (
actual product
)
The mockup did turn out to be mostly correct, with the small hole ending up being for the "Loop" wrist strap attachment.
Accessories
Nearly two weeks before they were introduced at Apple's September media event, the company's redesigned earphones, which ultimately arrived with the "Earpods" name, showed up in photos and video from Vietnamese site Tinhte.vn.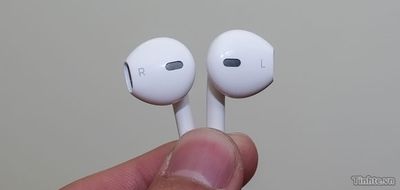 Redesigned earphones
- September 2012
Claims of a smaller dock connector for Apple's mobile devices
surfaced
as far back as February, and
photos
of the new Lightning connector began showing up a month ahead of its official unveiling.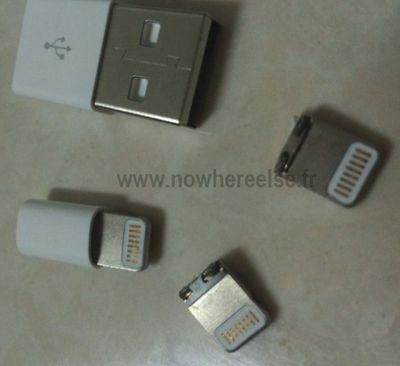 New dock connector
- August, 2012
iPad mini
While the rumors of a smaller iPad have circulated essentially from the time of the original iPad's introduction, the iPad mini picked up steam throughout 2012 as images and drawings began offering an idea of the device some three months ahead of its launch.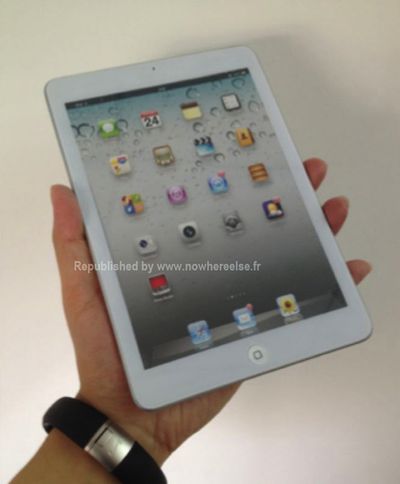 iPad mini physical mockup
- September 2012 (
actual product
)
Many of the leaks came from case manufacturers, some of whom went as far as to create detailed physical mockups that provided very accurate views of the final design for the device.
iPad 4
The biggest surprise of the year may have been the second iPad revision in six months. The 4th Generation iPad not only incorporated the new smaller dock connector, but also came with some notable processor improvements.
Looking back, however, the signs were there. Digitimes tends to get a bad rap, and we've been overly critical of the site as well. In this January Digitimes report, we accused them of "throwing ideas at the wall", but we were wrong.
The title of that story was "iPad 4 Headed for October Launch with iPad 3 as Interim Upgrade". Digitimes was first and accurate on the report that the iPad would see two updates in 2012.