2012's Biggest Mac Leaks and Rumors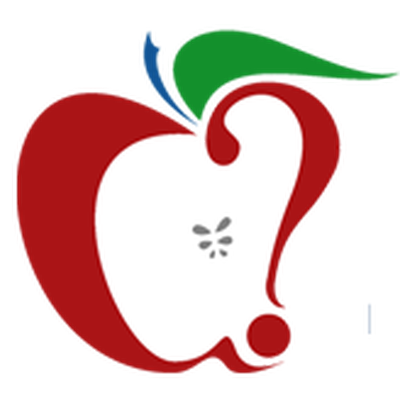 The iPhone and iPad tend to dominate the rumor scene for a number of reasons. Most signficantly, the total audience for iOS devices is larger and growing more rapidly than for Macs. Apple's Mac line has of course also been growing, but at a much slower pace. Also, given the maturity of the line, changes in the Mac line tend to be more incremental.
Still, looking back, we've seen a fair number of Mac-related leaks that preceded each product launch.
Perhaps the most reliable leaks have been from benchmark suites such as Geekbench, as we've seen benchmark leaks of unreleased Mac products several times now. These have all turned out to be accurate predictors of final Mac releases, sometimes with a several month lead time.
Here are some of the photo leaks we saw in 2012 for the Mac:
13" MacBook Pro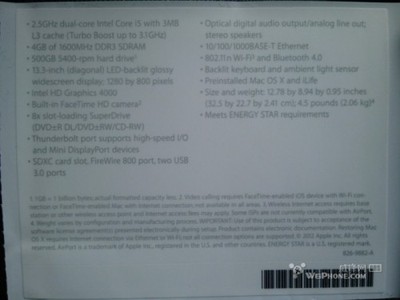 13.3" MacBook Pro Specs - June 2012
This pre-WWDC 13" MacBook Pro leak revealed that the 13" MacBook Pro would see little in the way of upgrades. Despite
many comments
about the easy fake-ability of the leak, the image turned out to be accurate. The 13" MacBook Pro wouldn't see Retina upgrades until later in 2012.
15" MacBook Pro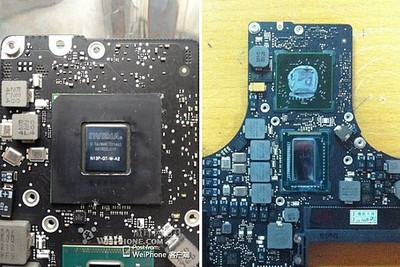 15" MacBook Pro logic board - June 2012
This 15" MacBook Pro logic board shot showed that Apple was switching to NVIDIA GPUs ahead of the launch. It also showed hints that Apple was keeping the current MacBook Pro design around, as the layout was identical to existing models.
iMac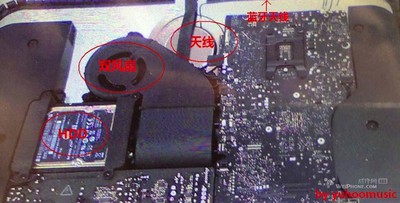 iMac internals and design - October 2012
This was the first we heard of the
newly redesigned iMac
, which was described as "considerably thinner than the current form factor".
The redesigned iMac is said to be considerably thinner than the current form factor, with the machine's thickness almost impossible to gauge when viewed from the side. The curved rear shell is also said to appear more like a water droplet than the squared-off design seen in the current model.
13" Retina MacBook Pro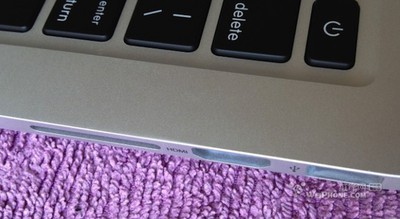 13" Retina MacBook Pro images - October 2012
This was our first look at the thinner 13" Retina MacBook Pro and showed the various ports and 2560x1600 resolution of the new machine.
MacBook Pro and Retina Lineups
From an informational perspective, analyst Ming-Chi Kuo has shown that he has had a clear view of Apple's timeline and has been able to report accurately on that topic. Kuo was the first to suggest in June that Apple was going to create a separate line of MacBook Pros with Retina displays while keeping the existing product line in place.
Some of the responses in the discussion thread at the time were of disbelief:
That's stupid.

If the new Macbook line is as powerful as the Pro line, WHY keep the Pro line? What advantage does the Pro offer? A CD drive? Not exactly tempting in today's day and age. I'd rather take thinner and retina over a stupid CD drive, especially since it looks like it will be priced cheaper than a pro.

Just Axe the old Pro line and rebrand the new Pro line as this thinner/Retina one.
Of course, Apple did splinter the line by introducing a new (more expensive) "Retina" line of MacBook Pro products. Kuo also predicts that Apple will reintegrate the line in 2013, offering a single 13" and 15" MacBook Pro line with Retina displays and doing away with the non-Retina Macbook Pros that are currently being offered.
Mac Pro: Not Dead Yet
Finally, perhaps the most encouraging bit of news from the year for some was the promise that the Mac Pro will see an update in 2013. Tim Cook even responded to a an email from a concerned Mac Pro user. In the email response:
Our pro customers are really important to us...don't worry as we're working on something really great for later next year.