Tim Cook at D10: "We're going to double down on secrecy on products."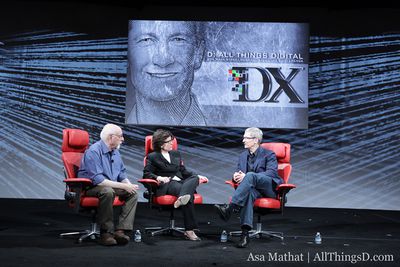 Image from
AllThingsD
Walt Mossberg and Kara Swisher spent time
interviewing
Apple CEO Tim Cook tonight on a range of topics. The interview took place at the
All Things D
conference in Rancho Palos Verdes, California. We have a
full transcript
of the interview available.
When asked about what Cook has changed at Apple, he discusses that he plans on doubling down on secrecy on products.
We're going to double down on secrecy on products. I'm serious.
Cook, however, does goes on to say that he is going to be the most transparent company on other topics such as social change and supplier responsibility.
Apple's secrecy surrounding its product line is legendary. Apple cofounder Steve Jobs even identified secrecy as one of the specific tenets at Apple that has been responsible for its success. Apple's ability to keep products secret has been hampered in recent years by Apple's reliance on Foxconn and other 3rd party manufacturers. Just earlier today, part leaks seem to have revealed the look of the next generation iPhone.