New Photos Show 'iPad Mini' Physical Mockup in Hand
Over the past several weeks, a number of renderings and even physical mockups of Apple's rumored "iPad mini" have surfaced, offering a good idea of the device's size and appearance should the leaked specs being used by case makers prove accurate. While a number of the renderings and mockups have shown the iPad mini next to existing devices like the full-size iPad or iPhone, a new set of photos [Google translation] reposted by Nowhereelse.fr shows the best view yet of how the device will look in the user's hand.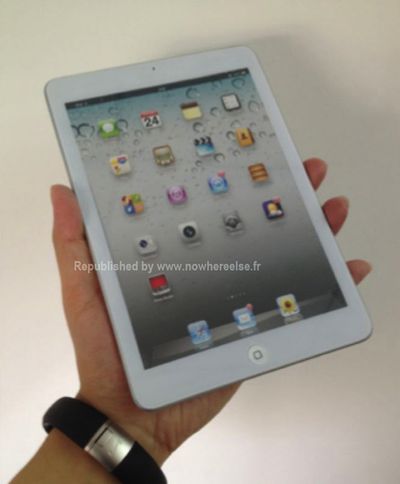 The device shown in the photos is clearly a physical mockup along the lines of those seen previously, but the photos demonstrate how the device would fit easily into most users' hands, cradled in just one hand with the fingers and thumb able to wrap around and grip the edges of the tablet.


As shown in the photos and previous images, the iPad mini is expected to retain the iPad's 4:3 aspect ratio for the display, but relatively narrower bezels on the sides of the device will make it more comfortable for users to hold than if it contained bezels of uniform width around all four edges.
Apple is expected to hold a media event in October to introduce the iPad mini, holding off on the debut in order to give the iPhone 5 and the iPad mini their own time in the spotlight.