Video Shows Completely Redesigned Headphones for iPhone 5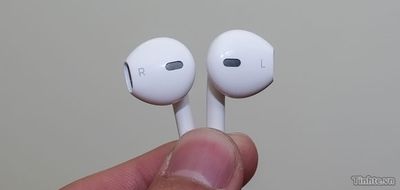 Vietnamese site Tinhte.vn has posted a video of what it claims to be redesigned headphones for the new iPhone which is expected in September.

Update: Video was replaced. This one has no audio.
The video shows the new headphones and compares them to the old headphones provided on the iPhone 4S. A translation of the video is provided below:
In my hands are the new earphones for the iPhone 5 that is about to come out - Apple's next generation of iPod [sic]. These will replace the current earphones that are on the market. These are manufactured at Phax Co factory in Vietnam. They have the appearance of a horse's head, not like earbuds. When they are worn, they have a much smaller profile. They have the appearance of a fully integrated, single unit - there's no part that looks like it would come apart - not like earbuds; the integrated design is characteristic of Apple products. Here I have the old earphones for comparison. The new ones are much smaller; when they are worn, they do not hurt the way earbuds do. You can see on the old ones the surface is a separate part that looks like it can be detached - not like the small surface of the new one. The old earphones were mostly made in China, with some in Vietnam. But the new ones are clearly made in Vietnam. (Reading from the wires): "Designed by Apple in California, assembled in Vietnam."
The site claims that the new headphones are manufactured in Vietnam which are also written on the cables themselves. According to Tinhte, the new headphones are being manufactured in a Foxconn plant in Vietnam.


Though we can't vouch for the authenticity of the video, Tinhte.vn has been able to get a hold of pre-release and protoype Apple devices in the past.
In a blog post, Tinhte seems convinced the headphones represent an authentic Apple part:
All factors such as design, quality finishing materials fabricated wire, plastic body headphones are led to the conclusion this is genuine and not counterfeit headphones.


Apple is widely expected to announced the next generation iPhone on September 12th.