Leaked iPad 3 Rear Shell, Display, and Dock Connector Cable Matched Together
Last week, repair firm iLab Factory posted a photo of a Sharp display that was said to carry a resolution of 2048x1536 in a 9.7-inch size and be targeted for the iPad 3.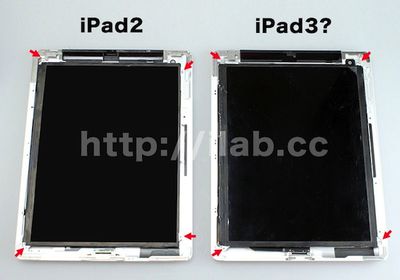 The company now reports (via 9to5Mac) that it has obtained the rear shell and dock connector cable parts that have also been circulating and matched all three together, increasing the likelihood that the leaks are genuine parts. The parts do show that the iPad 3 is marginally thicker than the iPad 2, which has been rumored by a number of sources as Apple has sought to increase battery capacity to drive the higher-resolution display and tweak other components.
First of all, in comparison to a back plate of iPad2, the iPad3 one(?) is a little bit thicker; less than 1mm, and equal-sized length and breadth.
The report goes on to show in a series of photos that mounting holes on both the display and the dock connector/ribbon cable line up exactly with those on the rear shell.


The report also examines the rear camera mounting points on the claimed iPad 3 shell, noting that they are indeed different than on the iPad 2 although the hole in the rear shell does appear to be essentially the same size as in the iPad 2. The difference in camera mounting had previously been noted in other leaked photos.


Apple is expected to introduce the iPad 3 in the first week of March, with the first round of launches set to follow soon after.