Apple Readying Miniaturized Dock Connector for Future iPhones?
iMore claims that Apple may be transitioning away from the standard 30-pin dock connector to something more compact in the very near future.
An updated "micro dock" could make room for bigger batteries, 4G radios, and other components far more important to the iPhone and iPad in a PC free world.
As the site points out, Apple has worked hard to miniaturize other components in their iOS devices. Apple was one of the first to adopt the micro-SIM and has even proposed an even smaller SIM card design so they could make even thinner designs.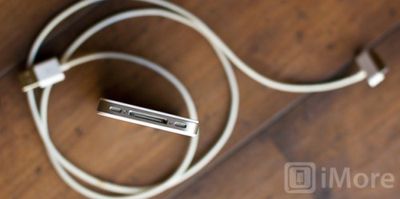 As iMore points out, the current dock connector isn't huge, but as devices continue to get smaller and thinner, every little bit counts.
Moving away from such a ubiquitous connector, however, would be walking away from an enormous ecosystem of existing 3rd party products. Still, Apple's constant desire to make smaller/thinner designs will naturally put pressure on the size of all their components. Apple's recent move to PC-free computing with iCloud syncing may have also diminished the importance of the dock connector.
We reached out to iMore's Editor-in-Chief Rene Ritchie who said that the report came from a "solid source". iMore also made headlines recently by predicting the date for the iPad 3 launch, which is believed to be accurate.