Confirmed: iPad 3 Has a 2048x1536 Retina Display
Over the past couple of months, several photos of displays claimed to be for the iPad 3 have surfaced from various sources. Such parts leaks are typical with the device's expected debut early next month. While reports have claimed that these displays are high-resolution "Retina" displays, there has been no definite confirmation of these claims so far.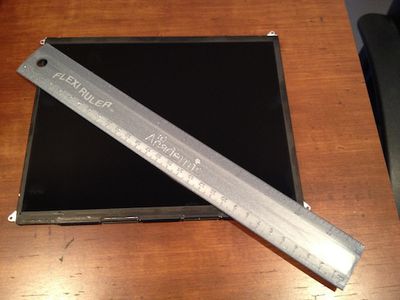 MacRumors has now been able to obtain one of these iPad 3 displays and examine it under a microscope in an effort to determine whether it is indeed an ultra-high resolution Retina display. Physically, the purported iPad 3 display is the same size as the current iPad 1 and iPad 2 display at 9.7" in diagonal, and looks quite similar to the naked eye.
However, when comparing the iPad 3 display to one from an iPad 2 under a microscope, the difference in resolutions becomes readily apparent, with the iPad 3 display's pixels appearing to be one-quarter the size of those on the iPad 2.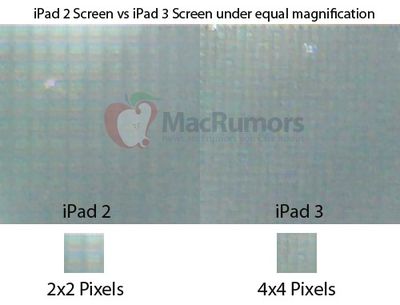 Since we only had a raw iPad 3 display with no method to power it, taking high quality photos of the pixels was difficult. Still, even with the relatively poor lighting, you can easily make out the pixels on each display (made up of red, green and blue elements). We highlighted a cluster of 4 pixels (2x2) from the iPad 2 to compare it to the same area on the iPad 3. On the iPad 3, the same cluster was occupied by 16 pixels (4x4) -- exactly twice the resolution in each direction.
Extrapolating out, the iPad 3 screen should carry a full resolution of 2048x1536, exactly twice the linear resolution of the iPad 1 and iPad 2 which is 1024x768. Such a screen should be able to display much sharper images as compared to the previous generation iPads.
While these iPad 3 screens weren't directly sourced from Apple, they are labeled as OEM replacement parts for the iPad 3 and are apparently in mass production. The difficulties of any 3rd party in mass producing 2048x1536 9.7" Retina displays make us quite confident that these represent legitimate iPad 3 parts.
Apple is expected to introduce the iPad 3 with a media event on March 7, and the device is rumored to be carrying this high-resolution display, a new A6 system-on-a-chip, and LTE support for models with cellular data capabilities.