An iPad 3 'Retina Display' Comparison Graphic
Clkoerner (via OSXDaily) put together this graphic showing the relative number of pixels offered by various devices, including the rumored iPad 3. Also for reference, he includes a 1920x1080 Full HD screen to show that the new iPad's screen may dwarf them all.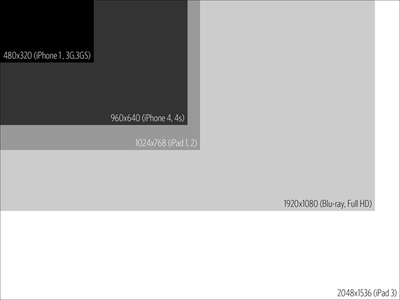 Click for full size
That is, assuming that the iPad 3 does come with the long rumored "Retina Display". The most recent evidence suggesting that it is the case was a
New York Times
report last week in which an anonymous Apple employee said the new iPad would have a
"truly amazing screen"
. Other evidence has leaked out over the past year with Apple
including
double-resolution iPad artwork in their applications, and numerous
supply chain
reports.
The graphic shows all screen resolutions relative to each other assuming that they all had the same DPI (dots per inch). The iPad 3 screen is actually believed to be the same physical size as the iPad 2, but carry twice the density of pixels. This should result in a much sharper images on the iPad 3 as compared to the previous models. 3rd party applications will have to be updated to support the higher resolution display and Apple is reportedly lining up demos for the March launch.