'iPad 4' Headed for October Launch with iPad 3 as Interim Upgrade?
In an effort to continue throwing ideas at the wall to see what might stick, the only occasionally reliable Digitimes today reported that not only will Apple be releasing the iPad 3 with high-resolution "Retina" display in March as is widely expected, but that the company will follow that up with the release of the iPad 4 in October.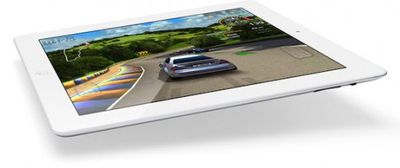 On the topic of the iPad 3, Digitimes suggests that the Retina display will be the main attraction of the new device, with better battery life also serving to entice customers. But other hardware upgrades for the iPad 3 are said to be rather minimal, as Apple is reportedly rolling out the iPad 3 alongside an iPad 2 price cut to $399 as an interim effort to set the stage for a bigger battle with the competition later in the year.
Apple will ship the so-called "iPad 3" with a full HD display in March and then "iPad 4" - named so by its component suppliers - with killer applications in October, according to industry sources in Taiwan. [...]

But a true battle for market share will arrive in the second half of the year when Apple ships its iPad 4 in October, about the time when Microsoft releases its Window 8 and Intel unveils its Clover Trail-W platform, the sources commented.

The 9.7-inch iPad 4 is expected to come with much upgraded hardware specifications and integrated applications so as to compete with an array of Android-, Wintel- or WoA (Windows on ARM)-based tablet PCs to be released in the fourth quarter, said the sources.
The rumor is somewhat reminiscent of last year's round of claims, which suggested that the iPad 2's successor would appear in late 2011 as an interim upgrade carrying a Retina display. Claims of a late 2011 iPad came from several different sources in July and early August of last year before other sources including The Wall Street Journal put the claim to rest.
Digitimes has a proliferative record of Apple-related rumors and has occasionally offered accurate information. But its information is generally considered unreliable given a significant number of claims that have failed to materialize. Claims of two separate iPad launches this year are sure to pique interest though, and we'll be waiting to hear if other sources offer similar information going forward.