More Claims of Taller, Thinner Next-Generation iPhone with 4-Inch Screen and New Dock Connector
iLounge reports on information it has received regarding the next-generation iPhone, claiming that Apple will indeed be making the move to a 4-inch display by increasing the height only has had been previously speculated. To accommodate the taller screen, the body of the device will also become slightly taller, but it will also see an approximately 20% reduction in thickness.
What we've learned: the new iPhone will indeed be longer and thinner than the iPhone 4 and 4S. Approximate measurements are 125mm by 58.5mm by 7.4mm—a 10mm jump in height, nearly 2mm reduction in thickness, and virtually identical width. According to our source, Apple will make one major change to the rear casing, adding a metal panel to the central back of the new iPhone. This panel will be flat, not curved, and metal, not ceramic. Our artist's rendition provides a rough idea of what this change will look like; it echoes the current-generation iMac design, to be sure.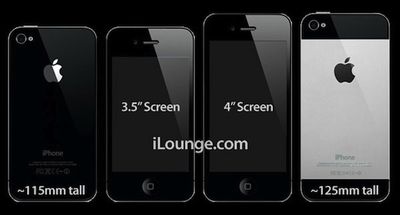 The report also claims that Apple will be adopting the rumored smaller dock connector for the device, which will be "closer to a pill shape" than the existing connector.


iLounge has offered some correct information in the past, and was rather accurate in its claims regarding the latest iPad. Not all of the site's claims came to fruition, however, with the new iPad's front-facing camera failing to gain HD resolution and Apple offering no sign of an enhanced smart cover for the device.