Worldwide Developers Conference 2008 Rumor Roundup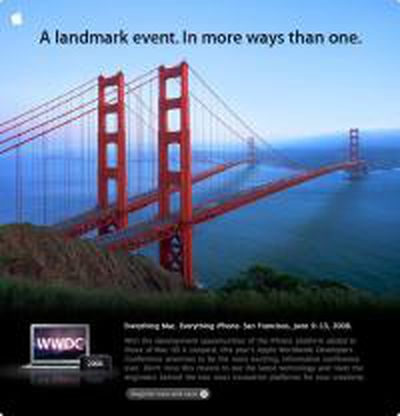 With the 2008 Worldwide Developers Conference (WWDC) beginning next week, MacRumors provides this Rumor Roundup as a summary of major rumors circulating around the Mac Web before the big event (previous roundups: 2007, 2006).
The 3G iPhone
The 3G iPhone will be announced at WWDC 2008. There really can be no doubt. It's certainly been no secret that the iPhone will eventually adopt 3G technology. When Steve Jobs first introduced the iPhone in January 2007, he specifically said (video clip) that Apple plans on making "3G phones and all sorts of amazing things in the future". Fast forward to the today (aka "the future") and there's been a growing mountain of evidence that we will see the 3G iPhone on Monday. In fact, as early as March we felt there was enough evidence to recommend people wait to buy an iPhone because of the likely June release.
Since March, we've heard "confirmation" from multiple sites (Gizmodo, GeekSugar) that June 9th is launch day. Add to that the fact that the Apple Store has been out of iPhones for a month as additional evidence that the iPhone revision is on its way. Apple has also been adding 3G preferences to their latest iPhone 2.0 beta software.
Meanwhile, AT&T has been kind enough to complete their 3G rollout by June and prohibit their staff from taking vacation between June 15th and July 12th in preparation for an "exciting Summer Promotional Launch".
Apple has also lined up carriers from around the globe, including Japan, Spain, Hong Kong, Australia and many more -- with some of the countries only having 3G networking support.GPS, Video Conferencing, Price, and Case
The remainder of the specifications of the next generation iPhone are, of course, harder to pin down. In fact, we dedicated an entire story to sorting out the conflicting rumors about the 3G iPhone. In the end, the presence of two or more distinct models of iPhone would help resolve all the apparent contradictions between the rumor sets.
The most consistent rumor regarding the 3G iPhone, however, has been of the inclusion of GPS. First word of this rumor actually came from a Kevin Rose tweet in late March. Engadget's Ryan Block added more credibility to the rumor by citing a "trusted source" describing a 3G capable iPhone that incorporates GPS and is "only slightly thicker". Since that time there have been other sources (Fortune/Mortiz, Cult of Mac/Kahney) also describing the inclusion of GPS. In fact, the only dissenting opinion about the inclusion of GPS comes from MacScoop who specifically claimed this week that the 3G iPhone would not have GPS capabilities... unless "there is a second super-secret higher-end model," again invoking the multiple iPhone theory.
The feature with the least evidence to support it is the one of Video Conferencing. Curiously, Kevin Rose was again the first source of this rumor, with a mention on Diggnation (Youtube Clip) that the iPhone would come with a front-mounted video camera specifically for video chat. A French newspaper later also listed "video conferencing" along with GPS and Mobile TV functionality in the upcoming phone, but the accuracy of their sources is unknown. Adding the most fuel to this rumor was iLounge's leaked case specs reportedly provided to 3rd party iPhone case manufacturers for the fabrication of 3G iPhone cases. The description of a 3rd sensor beyond the current ambient light and proximity sensor was enough to keep the dream alive. Tonight, however, Engadget's Ryan Block claims that his source with first-hand knowledge of the 3G iPhone explicity said "no front-facing videoconferencing camera".

Photo from iPodObserver
Regarding the rumored price of the iPhone, this time Kevin Rose was only the second person to claim there would be a $200 iPhone. He was preceded by Fortune/Mortiz and followed by Cult of Mac/Kahney. There has been ongoing speculation that Apple and their carrier partners may start offering subsidies for the iPhone. There have been few other reports that have addressed price specifically, except a Page 2 rumor pointing to much higher pricing ($499, $699).
Finally, on case design. Case design rumors have been remarkably consistent over time, though this could be a self fulfilling phenomenon. iPodObserver posted an early black-backed plastic case which generated a lengthy debate. As it turns out, the case closely resembled a 3rd party case cover casting doubts on its authenticity. The basic design, however, was revisited when Engadget also claimed the 3G iPhone would indeed sport a glossy black back. This was later corroborated by iLounge in their claimed case design specifications. Naturally, the case design descriptions spawned a number of potential 3G iPhone case designs that were "leaked" on the internet. Random leaks of case designs on the internet (1, 2, 3), however, are rarely authentic, and typically represent fan-inspired designs. Though, during this round, there did appear to be a couple of possible case designs (XSKN, Griffin) that were remarkably consistent with leaked specs.

iPhone, iPod Touch Firmware 2.0
Apple first announced the upcoming 2.0 firmware at their iPhone Software Roadmap event in March. iPhone 2.0 Firmware and the iTunes App Store are expected to be the focal points of the keynote presentation at this developer's conference. Immediate availability of the software and the launch of 3rd party applications has been rumored despite Apple's promise for delivery by the end of the month.
Leaked and rumored features include geo tagging photos, over the air iTunes downloads, Japanese keyboards, Chinese handwriting recognition, sideways calculator, and push .Mac email.
.Mac, Me, Mobile Me
Lately there have been strong hints of a .Mac revamp to be announced at WWDC, perhaps inclusive of a name change. TUAW was first to claim that Apple's .Mac service would see a "complete revamp" with over the air syncing enhancements, .Mac syncing with Windows and the addition of "push email". Apple themselves revealed that they were planning on changing the name of .Mac in strings hidden within their operating system. References to "MobileMe" found in the iPhone SDK and some internet investigation revealed that Apple has likely purchased Me.com as the new name of their .Mac service.
Mac OS X 10.6 'Snow Leopard'
TUAW first reported that Mac OS 10.6 would be introduced at WWDC with a focus on security, stability, and performance. Arstechnica later revealed that 10.6 is code-named "Snow Leopard" and also expects the software to be Intel-only and released in January 2009. Despite some early doubts about the validity of this rumor, it appears that multiple sources have confirmed these rumors. The timeframe also falls in line with comments by Steve Jobs regarding their plan to continue Mac OS X updates every 12-18 months.
Other Possibilities
Despite persistent rumors about a tablet device from Apple, there have been few credible rumors that have pinpointed an Apple tablet release at WWDC. Rumors of the mini-tablet were revived by Appleinsider in September of 2007 and the most recent rumors from Jason O'Grady point to a fall release.
Coverage
The WWDC 2008 keynote begins at 10am Pacific on Monday, June 9th, 2008.
MacRumors will be providing live keynote coverage at MacRumorsLive.com as well as SMS, Twitter and iPhone updates. We also offer a Spoiler Free option for those who wish to wait until the video is posted to watch the keynote themselves.