Tablet Mac Coming in Fall 2008?
Jason O'Grady revives rumors of a tablet Mac in his 'The Apple Core' blog today with claims that the long-rumored Mac Tablet would finally be arriving later this year.
Specifically, he believes that Apple will announce a 12" or 13" tablet "in the fall" of this year. The Mac Tablet will reportedly run full Mac OS X, have a slot loading Superdrive, an 'iPhone-type' GPS chip and an Intel Core Duo processor.
O'Grady believes September or October as the most likely months for the launch of the device and claims that his source "has been reliable in the past". While this rumor may overlap with earlier rumors of an Apple PDA, they appear to detail different features. The earlier PDA rumors suggested more of a larger iPhone rather than a tablet-ized Mac as O'Grady suggests.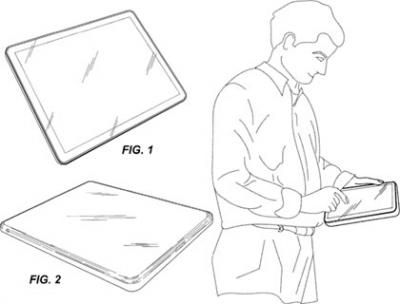 Images from an
Apple Patent
from 2005
Rumors of a tablet Mac always spark a debate about practicality of the tablet form factor. Regardless, it's clear that Apple has been working on a tablet Mac over the years with numerous patents depicting such a device.