Worldwide Developers Conference 2007 Rumor Roundup
With Apple's Worldwide Developers Conferece (WWDC) quickly approaching, MacRumors provides this Rumor Roundup as a summary of major rumors circulating around the Mac Web before the big event.
Mac OS X 10.5 (Leopard)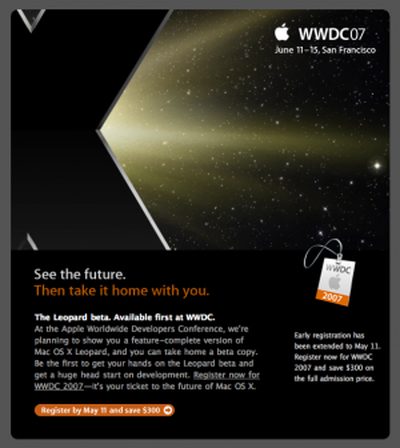 Without a doubt, Mac OS X 10.5 (Leopard) will take center stage at Steve Jobs' keynote address. Apple has sent out teaser invitations which read "See the future. Then take it home with you." Apple will be delivering a "feature complete" version of Mac OS X 10.5 Leopard at this year's WWDC. This means that any "top secret" features that they have hinted at for months will finally be revealed. The
big news
in April was Apple's announcement that Leopard would be delayed until October due to development of the iPhone. As a result, developers will be only getting a "near-final" beta copy of Leopard.
Secret Features
Despite almost a year of lead time, the exact "secret" features of Leopard have not yet been revealed. There has been plenty of speculation that one of the major changes is a revamp of Mac OS X's Finder and user interface with the heavy incorporation of Leopard's new Core Animation framework. To date, Apple's Mac OS X Finder interface in developer builds of Leopard have remain untouched when compared to the current public version of Mac OS X.
The big revelation last week was then Sun's CEO Jonathan Schwartz claimed during a speech "this week you'll see Apple is announcing at their Worldwide developer Conference that ZFS has become the file system in Mac OS 10."
Meanwhile, Steve Jobs insists "Leopard will be worth the wait."
iMacs
Despite an initial claim of "brushed metal" iMacs at WWDC from ThinkSecret, the rumor site revised their prediction that the iMacs may instead come "in the ensuing weeks". This echoes more confident claims by Appleinsider that the iMac would not see updates at WWDC.
iPhone
With the iPhone's release date around the corner, many feel the iPhone will be discussed and demoed again, with one report claiming that Apple will be announcing some form of kit for developers to port "small programs" to the iPhone.
Ultraportable
Despite high hopes, and Page 2 spy shots, chances for the rumored subportable seem slim at WWDC. While the original rumors had pegged a released near WWDC, the last report from Appleinsider pushed the target date into "late 2007 / early 2008".
What If...
Every Apple event comes with a "What if..." Usually, that honor goes to some crazy rumor about an Apple PDA, Apple Phone, or Apple Widescreen TV. WWDC 2007's crazy "What if" possibility comes from a rumor report offered by Digitimes in March.
Despite Digitimes previously poor accuracy record, they were spot on with their rumor that Leopard was to be delayed until October. Digitimes' cited reason for the delay was that Apple needed time to provide Vista support "integrated version of its Boot Camp software." Now there's been some debate about what was meant by the term "integrated", but one interpretation is some form of full virtualization software to allow Vista applications to run side-by-side in Mac OS X.
This, of course, would be a huge threat to existing virtualization application manufacturers, such as Parallels -- who conveniently launched a major revision a week prior to Apple's event.
Keynote Coverage
No live video coverage is available for the keynote. Instead we will be providing live text and photo coverage at MacRumorsLive.com with "continuous" streaming updates (no refresh required). Alternative forms of coverage available include SMS updates and Spoiler Free coverage.
The keynote kicks off at 10AM Pacific on Monday, June 11th, 2007.