Latest iPhone 2.0 Beta Adds Geo-Tagging to Photos
Apple has continued to add new features to their upcoming iPhone 2.0 firmware release. The latest version seeded to Enterprise customers has a added geo-tagging to the Camera application, according to AppleInsider.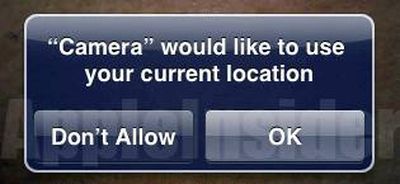 The latest iPhone 2.0 Beta (5A292g) asks the user for permission before transmitting their location information. Apple currently uses Wi-Fi and cellular tower identification to pinpoint locations, but is rumored to add GPS support in the next version of the iPhone.
Essentially, geo-tagging is the process of adding geographical identification metadata to media files such as latitude and longitude coordinates -- or even names of places -- so that those files can later be referenced, searched, and grouped based on their origin.
This functionality appears to fall under a broader "Location Services" preference that can be turned on or off.
The use of location in mobile phone applications is a growing trend. iPhone developers are already working on location-based social networks and even a massively multiplayer online role-playing game (MMORPG) set in the real world.