Apple Bought Me.com? .Mac's New Name?
Earlier today, John Gruber of DaringFireball.net suggested that Me.com might be the name for Apple's .Mac rebranding. There was no real evidence, however, except that Me.com was registered under MarkMonitor's domain service. MarkMonitor is a domain management service that Apple (and many others) use. Gruber admited that this was mostly speculative at that time:
This is proof of nothing, of course, since MarkMonitor provides domain name parking for any company that pays for their services.
Me.com currently redirects users to Snappville.com - a social networking community. Snappville used to be called Me.com but changed names in December 2007 with little fanfare.
MacRumors reader Matthew Yohe, however, pointed us to Netcraft page which curiously lists Kenneth Eddings (eddingsk@apple.com) as the DNS administrator for Me.com. This email address, however, was nowhere in the ownership (Whois lookup) information for Me.com. As it turns out, Mr. Eddings' email address is only listed in the SOA Record of the DNS record.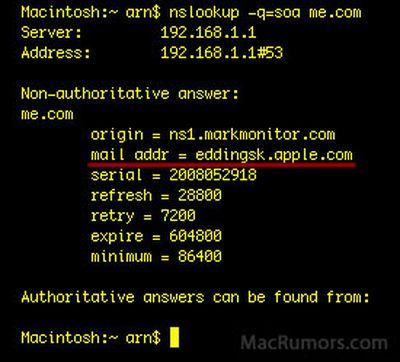 In this case, Markmonitor controls the SOA Record for Me.com. Eddings is also the official technical contact for many of Apple's domain names. So, Apple does appear to own Me.com. It was likely purchased sometime in December 2007, and it (along with MobileMe for iPhone) could very well be the rebranding for Apple's .Mac service. With Apple's ongoing product expansion outside the Mac platform, it makes sense that they may need to rebrand their services to something more platform neutral.
In today's domain market, the purchase of Me.com could run well into the tens of millions of dollars, so it is unlikely Apple would buy it without a specific plan.