Thunderbolt Display
Is 5K in our future?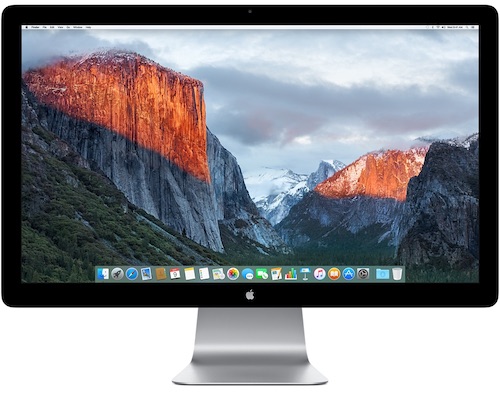 At a Glance
Apple discontinued its nearly five year old Thunderbolt Display on June 23, 2016, with only remaining stock available while supplies last. Rumors suggest Apple is working on a new display with built-in graphics and presumably a 4K or 5K resolution. Timing for the new display is unclear, but it could debut in late 2016 alongside new Macs with USB-C/Thunderbolt 3.
Best Guesses
Retina resolution of 5120 x 2880 pixels to match 27-inch Retina iMac
iMac-like redesign with tapered design and razor-thin edges
USB 3.0 or better
Designed in partnership with LG
Launch not likely until late 2016 or later
What We Expect
On June 23, Apple announced it is discontinuing the Thunderbolt Display. Existing stock will be sold in stores and online, but no more displays will be manufactured.
At the time the discontinuation was announced, an Apple spokesperson said "there are a number of great third-party options available for Mac users," making it unclear as to whether this is the end of Apple's display business or if new a 4K or 5K display will be released in the future, but rumors now suggest a new 5K display with an integrated GPU is still in the works.
While there are rumors indicating a new display is in the works, it is not known exactly when it will be released. A new display that uses an integrated GPU would likely require Thunderbolt 3 integration, so it's possible a launch could come alongside refreshed Macs that include Thunderbolt 3 ports. Apple is going to announce new MacBook Pros with Thunderbolt 3 support on October 27, but KGI Securities analyst Ming-Chi Kuo, who often accurately predicts Apple's plans, says the display won't be released until the first half of 2017.
Apple is said to be planning to partner with LG Electronics for its standalone 5K display, but what exactly the partnership will entail remains unclear. It is not known how design and the production will be split between the two companies.
A theoretical 27-inch 5K display would use the same 5120 x 2880 resolution as the 27-inch Retina 5K iMac and is believed to be the most logical Thunderbolt Display upgrade as Apple displays generally share the same screen as its line of iMacs. A 5K Thunderbolt Display requires so much bandwidth that few existing Macs are powerful enough to drive it, so it would primarily work with new machines. A display with a resolution of 5120 x 2880 would be able to offer the same amount of screen real estate as the current Apple Thunderbolt Display but with a much sharper appearance, using the same technology as in the Retina MacBook Pro.

Current Apple Thunderbolt Display
Along with the integrated GPU, there are two other potential upgrade paths Apple could go with for a new 5K display product that would work with its Mac lineup:
Introduce a 5K display that uses a DisplayPort 1.2 Multi-Stream Transport setup over either dual Thunderbolt 2 cables or a single Thunderbolt 3 cable
Wait for DisplayPort 1.3 or 1.4 support likely coming in Intel's Cannonlake processors in 2017
The first option (or an integrated GPU) would allow Apple to introduce a 5K Thunderbolt Display in the near future, while the second option would require further delay. The second option is, however, the only option without compromises as it would allow Macs to power a 5K display over a single-stream cable.
In More Detail

Speculation regarding a Retina standalone display from Apple began to ramp up several years ago in May of 2012, when it was reported by ABC News that the next-generation iMac would be adopting such a display.
Initially, the only Mac to receive such a bump was the MacBook Pro, with the 15-inch model being the first to make the jump in moving from a 1440 x 900 display to a 2880 x 1800 Retina display. The 27-inch iMac joined the group in October 2014, moving from 2560 x 1440 to a monster 5120 x 2880 resolution. The 21.5-inch model followed suit a year later, jumping from a 1920 x 1080 resolution to 3840 x 2160 or "4K" resolution as a high-end option, and in 2014, Apple released a 5K 27-inch iMac with a resolution of 5120 x 2880. Given that the Apple Thunderbolt Display uses the same 2560 x 1440 display panel found in the older 27-inch iMac, it seemed reasonable to think that Apple's external display could make the jump to Retina resolution along with the iMac.
Unfortunately, despite the fact that much of Apple's product line now features Retina displays, the Thunderbolt Display has gone without an update since 2011 and is now discontinued.
Subscribe to the MacRumors YouTube channel for more videos.
Graphics horsepower has long been a major limiting factor for the move to a true 5K Thunderbolt Display as a display at that size carries nearly 15 million pixels. Many of Apple's existing Mac products are simply unable to drive such a display at full resolution and none can handle the bandwidth necessary for 5K video over a single cable.
Full plug-and-play support for 5K external displays will require the DisplayPort 1.3 or DisplayPort 1.4 standards, but it is not clear when Apple's Macs will begin supporting it. Intel's current-generation Skylake and next-generation Kaby Lake processors do not support DisplayPort 1.3, meaning Macs with those chips released across 2016 and 2017 will be unable to support an external single-tile display similar that used in the Retina 5K iMac.
We don't expect to see DisplayPort 1.3 or DisplayPort 1.4 support built into Intel's processors until Kaby Lake's successor, Cannonlake, is released in the next 18 to 24 months. Until Cannonlake, no a 5K Retina Thunderbolt display over a single-stream cable is not a possibility.
Integrated GPU
Apple could introduce a 5K display able to work with its Mac lineup by including a dedicated GPU built directly into the display, which rumors suggest is the path that Apple plans to take. A 5K display with its own GPU would be able to work with many Macs because it would be driven by an internal graphics card rather than relying on the machine it's connected to, but Thunderbolt 3 may be required. If Thunderbolt 3 is indeed required, it will only be compatible with 2016 machines.
A Thunderbolt Display with a built-in graphics card is an idea that's been floating around for awhile, but one June rumor said Apple is indeed working on such a display, which was backed up by a second rumor from BuzzFeed's John Paczkowski, a reliable source.
MST Alternative
It was initially believed Apple would wait until it was able to release a single-tile 5K display to update its Thunderbolt Display lineup, but upcoming Macs with Thunderbolt 3 will have the ability to power a 5K Retina display over a single cable with two DisplayPort 1.2 channels using Multi-Stream Transport (MST). Apple may opt to use MST to prevent further delays even though it can cause performance issues and is inferior to the Single-Stream Transport (SST) that would be possible with machine featuring built-in DisplayPort 1.3 or 1.4 support.
Current speculation suggests Apple could introduce a 5K display that will connect with newer Macs over Thunderbolt 3 by taking advantage of both DisplayPort 1.2 streams. By using both of the DisplayPort 1.2 streams and the internal equivalent of a dual cable DisplayPort 1.2 MST setup, forthcoming machines that include Thunderbolt 3 ports will be able to drive a 5K display using Multi-Stream Transport.
Multi-Stream Transport (MST) would stitch two halves of a display together to make a single seamless display, with each DisplayPort 1.2 connection driving half of the display, a technique Apple previously used in the first 5K iMac and may be willing to adopt again.
Such a 5K display would primarily work with new Macs, but among current models the Mac Pro, the 27-inch iMac, and the latest high-end 15-inch Retina MacBook Pro with an AMD Radeon R9 M370X graphics card would potentially be able to power the display over two separate Thunderbolt cables.
4K Alternative
Another alternative goal would be a "4K" resolution of either 4096 or 3840 x 2160 pixels. Apple has touted its 2013 Mac Pro as being able to drive three such displays simultaneously, leading to speculation that the company is planning to launch its own 4K display at some point. A 4K 27-inch display would, however, require Apple to source displays that are separate from its iMac displays, a move the company may not want to make in favor of holding out for 5K support.
Design Expectations

iMac's ultrathin design
Apple's Thunderbolt Display and its predecessor Apple LED Cinema Display have taken design cues from the iMac over the years, with a similar body design and aluminum foot. With the iMac receiving a redesign at its late 2012 launch with a new design encompassing up to 40% less volume than the previous design and with thin edges tapering to just 5 mm thick, many have been waiting for the Apple Thunderbolt Display to adopt a similar design, reducing bulk and weight.
The redesigned iMac also features laminated display technology that brings the display closer to the cover glass for improved color and contrast, as well as an anti-reflective coating. Both features would be welcome additions to the Apple Thunderbolt Display.
Release Date
With the discontinuation of the Thunderbolt Display, it is not known when Apple will release a new model, but alongside 2016 Skylake Macs is a possibility. Apple is planning to hold a Mac-centric event on October 27, so if a new 5K display is planned for 2016, it could be introduced at that event. Otherwise, the display will likely come in the first half of 2017 as predicted by KGI Securities analyst Ming-Chi Kuo.

MacRumors attracts a broad audience of both consumers and professionals interested in the latest technologies and products. We also boast an active community focused on purchasing decisions and technical aspects of the iPhone, iPod, iPad, and Mac platforms.
Advertise on MacRumors
Our Staff