Thunderbolt Display
Is 5K in our future?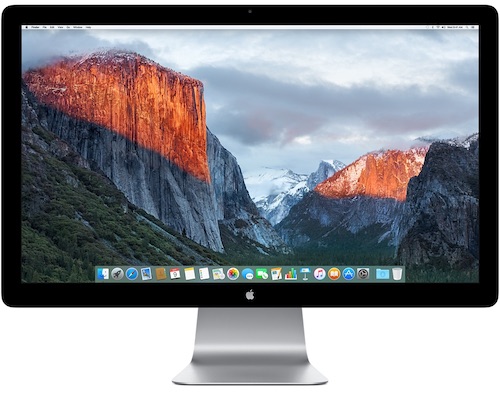 At a Glance
Apple's Thunderbolt Display debuted over four years ago, but Apple display updates have been very hard to predict due to their erratic upgrade cycle. 4K and even 5K displays are becoming more popular, particularly among the professional users Apple targets with its displays, but with Intel's latest Skylake chips not supporting the DisplayPort 1.3 standard needed to drive external single-tile 5K displays like those used in the 27-inch Retina iMacs, we still may not see a Retina Thunderbolt Display for quite some time.
Best Guesses
Retina resolution of 5120 x 2880 pixels to match 27-inch Retina iMac
iMac-like redesign with tapered design and razor-thin edges
USB 3.0 or better
Likely requires DisplayPort 1.3 for connectivity bandwidth
Launch not likely until late 2016 or later
What We Expect
Apple's Thunderbolt Display is nearly five years old now, having been announced in July 2011 but not shipping until two months later. Apple display updates have always been very hard to predict due to their erratic update cycle, and while Apple's 2013 Mac Pro launch seemed like an opportune time for Apple to launch an upgraded standalone display, no such product surfaced.
There are no concrete display rumors that have hinted at Apple's plans for the Thunderbolt Display, but there are a couple of different upgrade paths that Apple could go with should it choose to introduce a new display product.
Apple's displays generally share the same screen as its line of iMacs, so it's possible Apple is working towards introducing a 27-inch Retina Thunderbolt display that offers four times as many pixels as the current Apple Thunderbolt Display, coming in at the same 5120 x 2880 pixels seen on the 27-inch Retina 5K iMac. A display at this size would be able to offer the same amount of screen real estate as the current display but with a much sharper appearance, using the same technology as in the Retina MacBook Pro.
Unfortunately, there are technology constraints that would prevent a 5K Retina Thunderbolt display from being an entirely feasible option until 2017 when Intel releases its Cannonlake processors.
An alternative goal would be "4K" resolution of either 4096 or 3840 x 2160 pixels. Apple has touted its 2013 Mac Pro as being able to drive three such displays simultaneously, leading to speculation that the company is planning to launch its own 4K display at some point. A 4K 27-inch display would, however, require Apple to source displays that are separate from its iMac displays, a move the company may not want to make in favor of holding out for 5K support.

Current Apple Thunderbolt Display
Over the years, 4K and 5K displays have become increasingly more affordable as the technology has become more widely adopted by consumers, so there is less of a price barrier preventing Apple from introducing a 4K or 5K Thunderbolt display. Though prices have steadily fallen since 2013 when the first 4K Macs were growing in popularity, Apple has still opted to hold off on offering a refreshed display.
The 5K Issue
In October of 2014, Apple introduced its first 27-inch Retina iMac with a display measuring in at 5120 x 2880, but the company did not introduce a new Thunderbolt display at that time. A refreshed 27-inch 5K iMac debuted in 2015, but again, there was no accompanying Thunderbolt display.
In the past, Apple has used the same displays in both its iMacs and its Thunderbolt Display, likely to cut down on production costs as the Thunderbolt Display is not a popular product on its own. Using that reasoning, we can expect that an updated display from Apple would use the same 5120 x 2880 resolution as the 5K iMac.
Unfortunately, no existing Macs are powerful enough to handle the bandwidth necessary for 5K video over a single cable, so Apple needs to wait for the appropriate technology to be available before introducing a 5K display. This is the same reason the 27-inch 5K iMac is not able to function in target display mode.
Plug-and-play support for 5K external displays will require the DisplayPort 1.3 standard, but it is not clear when systems will support the new standard. Intel's latest Skylake processors launching in late 2015 and early 2016 do not support DisplayPort 1.3, meaning Skylake systems will be unable to support an external single-tile display similar that used in the Retina 5K iMac.
Intel's DisplayPort upgrade plans beyond Skylake are not known, but the DisplayPort 1.4 standard was announced in March of 2016. It is not clear if Intel will adopt DisplayPort 1.3 or move straight to the DisplayPort 1.4 standard, but either way, Macs with DisplayPort 1.3 or 1.4 are not likely to be available before 2017.
Apple is likely going to wait until it can introduce a single-tile 5K display to update the Thunderbolt Display, but Skylake Macs will be able to power a 5K Retina display over two DisplayPort 1.2 channels using Multi-Stream Transport (MST). MST can cause some performance issues, however, which is why Apple may opt not to use it.
No Concrete Rumors
With the Mac Pro having launched without an accompanying announcement regarding Apple's 4K display plans, timing for a potential update remains unclear. Ultimately, there are still no concrete rumors suggesting when Apple will update its displays, though there have been some rumors over the years that have not panned out.
A July 2014 rumor suggested that Apple had a 4K desktop in the works, which was said to be a new iMac, a new 4K display, or both. The 4K desktop was said to be slated for a late fall release to highlight OS X Yosemite, but did not materialize.
Another rumor suggested Apple could release a new 5K ultra-high definition 27-inch monitor later in 2014, with a resolution of 5120 x 2880, but that also did not happen.
Since the end of 2014, there have been no rumors about a possible upgraded display.
In More Detail
Retina Rumors

Speculation regarding a Retina standalone display from Apple began to ramp up in May 2012 when it was reported by ABC News that the next-generation iMac would be adopting such a display. Apple's "Retina" display transitions have so far been focused on doubling the number of pixels in each direction from the corresponding non-Retina models, allowing for the same amount of screen real estate but with sharper content enabled by having four pixels contributing to one viewable "point" on the screen.
Initially, the only Mac to receive such a bump was the MacBook Pro, with the 15-inch model being the first to make the jump in moving from a 1440 x 900 display to a 2880 x 1800 Retina display. The 27-inch iMac joined the group in October 2014, moving from 2560 x 1440 to a monster 5120 x 2880 resolution. The 21.5-inch model followed suit a year later, jumping from a 1920 x 1080 resolution to 3840 x 2160 or "4K" resolution as a high-end option. Given that the Apple Thunderbolt Display uses the same 2560 x 1440 display panel found in the 27-inch iMac, it seemed reasonable to think that Apple's external display could make the jump to Retina resolution along with the iMac.

Apple briefly posted an OS X Mavericks wallpaper at 5120 x 2880 resolution following the introduction of the upcoming operating system at WWDC 2013 in June, renewing speculation about possible Retina iMacs and standalone displays, but the wallpaper was quickly removed and the September 2013 iMac update failed to bring Retina displays.
Graphics horsepower has long appeared to be a major limiting factor for the move to a true Retina display, particularly for the 27-inch iMac and thus Apple's standalone display. With a Retina display at that size carrying nearly 15 million pixels, many of Apple's Mac products would simply be unable to drive such a display at its full resolution, even with significant graphics upgrades. Apple has managed to squeeze a Retina display into the 27-inch iMac with AMD graphics chips doing the heavy lifting, but external connectivity at the required bandwidth remains an obstacle for a potential 5K Thunderbolt display.
4K and Thunderbolt 2 for Mac Pro
At its Mac Pro sneak peek offered at WWDC 2013 in June, Apple touted that the new, radically redesigned Mac Pro would be able to drive up to three 4K displays simultaneously, drawing on the power of its standard dual AMD FirePro graphics processors. As a result, many observers speculated that Apple could be planning to launch its own 4K display alongside the Mac Pro when it debuted later in the year. That scenario did not, however, come to pass.
The traditional 4K "Ultra HD" resolution carries 3840 x 2160 pixels, the same 16:9 aspect ratio seen in Apple's iMac and Thunderbolt Display lines, and is in fact the exact resolution that would be expected for a Retina 21.5-inch iMac. But blowing that resolution up to a 27-inch display could offer some appealing options for screen real estate without needing to go to the full Retina resolution of 5120 x 2880. A 4K Ultra HD display carries 8.3 million pixels, or just over half what would be required for a full 27-inch Retina display. But with Apple targeting professional users with the new Mac Pro, the company may even look to push the resolution to the wider "Cinema 4K" standard of 4096 x 2160. These options are, however, now looking less likely with the arrival of the 27-inch iMac at 5120 x 2880, but it will likely take some time and some more new Macs before the technology can make its way into a standalone display.

Current Apple Thunderbolt Display ports: 3x USB 2.0, FireWire 800, Thunderbolt, Gigabit Ethernet
Apple's Mac Pro introduced the Thunderbolt 2 connectivity standard, offering up to 20 Gbps of data transfer in each direction. An upgraded Apple display could take advantage of that standard both for its own display needs and for its passthrough capabilities as a hub. USB 3.0 would also be an obvious upgrade for such a display.
Given that the maximum resolution supported by the DisplayPort 1.2 standard used in Thunderbolt 2 is Cinema 4K at 4096 x 2160 pixels, it seems extremely unlikely that Apple would create a dual Thunderbolt 2 solution for driving an even higher resolution Retina display at 5120 x 2880 pixels.
Even next-generation Thunderbolt 3 technology is unlikely to support a true Retina 5K Thunderbolt Display, however, as that standard supports two DisplayPort 1.2 connections rather than DisplayPort 1.3. While the dual DisplayPort 1.2 system could support a multi-tile 5K display with each connection driving half of the display, with the Retina iMac Apple has shown it prefers a higher-quality single-tile display panel that will not be supported on Thunderbolt 3.
iMac-Inspired Design

iMac's ultrathin design
Apple's Thunderbolt Display and its predecessor Apple LED Cinema Display have taken design cues from the iMac over the years, with a similar body design and aluminum foot. With the iMac receiving a redesign at its late 2012 launch with a new design encompassing up to 40% less volume than the previous design and with thin edges tapering to just 5 mm thick, many have been waiting for the Apple Thunderbolt Display to adopt a similar design, reducing bulk and weight.
The redesigned iMac also features a new laminated display technology that brings the display closer to the cover glass for improved color and contrast, as well as an anti-reflective coating. Both features would be welcome additions to the Apple Thunderbolt Display as well.