watchOS 7
The latest version of watchOS, available now.
By MacRumors Staff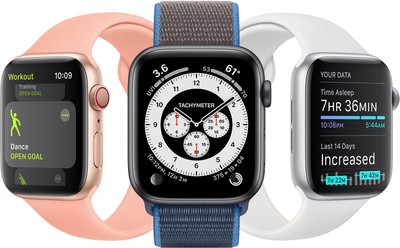 What's New in watchOS 7
Introduced in June 2020, watchOS 7 is the newest version of the operating system that runs on the Apple Watch, and it will be released to the public on September 16.
watchOS 7 is a huge update that brings a number of notable health, fitness, and style features to the Apple Watch. First up, there's a new Face Sharing feature to share your watch faces and install watch faces shared by other people, in apps, in Messages, on websites, and more.
Apple introduced several new watch faces including Chronograph Pro with a tachymeter, a Memoji face, a Stripes face with customizable colors, a GMT face that shows multiple time zones, and more. There are also updates for some existing watch faces like Photos and X-Large. Apps can also offer multiple complications, so you can better customize your Apple Watch face to your needs.
watchOS 7 includes a new Sleep app that offers sleep tracking capabilities, providing sleep analysis in an easy-to-read chart. The Apple Watch uses the accelerometer to detect subtle movements associated with breathing, so it knows if you're asleep or awake.
There's a Wind Down feature that helps you establish a bedtime routine with shortcuts to things like dimming the lights and opening a meditation app, and a Sleep Mode that automatically turns off your screen and turns on Do Not Disturb.
When it's time to wake up, the Apple Watch can play soft sounds or wake you with haptic vibrations, and it provides a weather report and battery level so you can get your morning started. You'll get a reminder to charge when the battery is low, and a reminder when charging is finished to minimize time without your watch.
Apple added a new handwashing detection feature that listens for the sounds of running water and then starts a 20-second timer to help you wash your hands for the appropriate amount of time. Apple Watch can also send a notification to remind you to wash your hands when you get home.

Apple renamed the Activity app, and it's now known as Fitness. To go along with the new name, there's an updated interface and new workouts that include Dance, Functional Strength Training, Core Training, and Cooldown.
A Family Setup feature in watchOS 7 allows kids and older adults to use an Apple Watch without an iPhone when a guardian sets it up for them. With Family Setup, multiple Apple Watches can be paired to a single iPhone, with parental controls included. Kids can use all Apple Watch features, there's a new Apple Pay Cash option for children, and there's a Schooltime mode for making sure kids are on task during school hours. Family Setup is also useful for older adults.
In the Maps app, Apple added directions for cyclists with maps that include elevation changes, stairs, bike lanes, and busy roads. You can search along your route for the first time, adding stops as you go if you need a bite to eat.
Siri provides spoken translations and can translate into 10 languages. All dictation is now done on-device, making it faster and more reliable. Siri Shortcuts can be accessed on the Apple Watch and added as complications.
watchOS 7 does more to protect hearing health with a weekly listening notification and an automatic Reduce Loud Sounds option that sets a max headphone volume to prevent hearing damage.
watchOS 7 is only compatible with the Apple Watch Series 3, Series 4, Series 5 models, Series 6, and SE models. It cannot be installed on the Apple Watch 1st generation, Series 1, and Series 2 devices. Apple released watchOS 7 on Wednesday, September 16.
Note: See an error in this roundup or want to offer feedback? Send us an email here.
Current Version
watchOS 7.2 introduces Apple Fitness+, which is Apple's newest streaming service. Apple Fitness+ provides at home workouts that people can do with progress measured through the Apple Watch. The Apple Watch connects to the Apple TV, iPhone, or iPad when you do a workout in the Fitness app so you can keep an eye on your metrics right on the screen.
watchOS 7.2 introduces a new Cardio Fitness feature for the Apple Watch, and Apple says that the cardio fitness metric us a "strong indicator of overall health." The Cardio Fitness feature measures VO2 max, or the maximum amount of oxygen that your body is able to consume during exercise.
Cardio Fitness can be accessed through a new trend that's been added to the Activity app, and it can be set up in the Health app on iPhone. Cardio fitness levels are available for users age 20 and above, and are estimated by age, with Apple sorting them into four ranges: high, above average, below average, or low. The Apple Watch and iPhone will send notifications to users to let them keep an eye on their overall cardio fitness.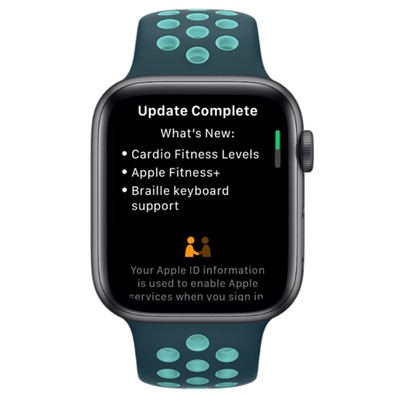 watchOS 7.2 also adds atrial fibrillation classification at heart rates above 100 BPM, and it brings the ECG app to Taiwan.
watchOS 7.3
Apple has also seeded two betas of an upcoming watchOS 7.3 update to developers for testing purposes. There's a new Apple Watch setting labeled "Time to Walk," which suggests that Apple could be planning to add guided walking workouts in the watchOS 7.3 beta. The feature is not functional at this time, but it could be introduced in a later beta. "Time to Walk Workouts are downloaded when Apple Watch is connected to power and near your iPhone. Completed workouts are deleted automatically," reads the setting.
Watch Faces
There are seven new watch face options in watchOS 7, with most of the new faces limited to the Series 4 Apple Watch and later, though older Apple Watches can access the new "Artist" face. See the list below for details on each new watch face.
GMT - The GMT face shows multiple time zones at once, while also taking into account your physical location. 12-hour time is displayed on the inner dial with local time, while the outer dial displays 24-hour time.
Count Up - The Count Up face lets you start tracking elapsed time by tapping the bezel.
Chronograph Pro - This face was previously available in the watchOS 7 betas and features multiple time scales (60, 30, 6, or 3 seconds) along with a tachymeter to measure speed based on time travel over a set distance.
Typograph - The typograph face displays numerals in three custom type styles (custom, modern, and rounded) and four different scripts ( Arabic, Arabic Indic, Devanagari, and Roman) with each combo tailored to fit the face perfectly.
Artist - For the Art watch face, Apple collaborated with artist Geoff McFetridge to create an Apple Watch face that features artistic animated faces with the time overlaid.
Memoji - The Memoji face brings animated Memoji to the Apple Watch that react to touch.
Stripes face - Features different striped patterns in a variety of colors for supporting sports teams, matching what you're wearing, and more. You can choose the number of stripes, the number of colors, and rotate the stripes in any angle.
According to Apple, the Stripes, Typograph, Memoji, GMT, Chronograph Pro, and Count Up watch faces are limited to the Series 4, Series 5, and Series 6 Apple Watch models, along with the Apple Watch SE.

For existing watch faces, the X-Large watch face now features support for rich complications, the Photos watch face now offers an option to add color filters to any picture, and there are more Pride rainbow watch face options.
Complications
A single Apple Watch app can now offer more than one complication, which allows for more customization options. If a surf app offers complications for swell size, water temperature, and wind speed, all of these can be added to the Apple Watch at once for a surf-themed Apple Watch face.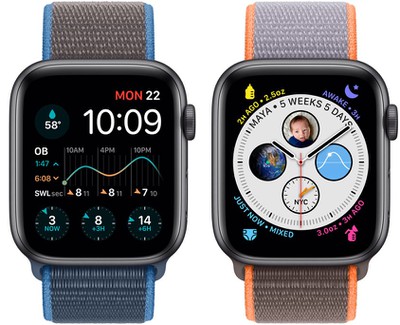 Apple has added new complications for Shortcuts, the World Clock, the new Sleep app, the Camera Remote app, and Moon phases. All of the new complications allow these features to open with one tap.
Watch Face Sharing
Watch face setups can now be shared with other people, so if you have a great Apple Watch setup you can share it with friends and family in Messages, in the Mail app, or online.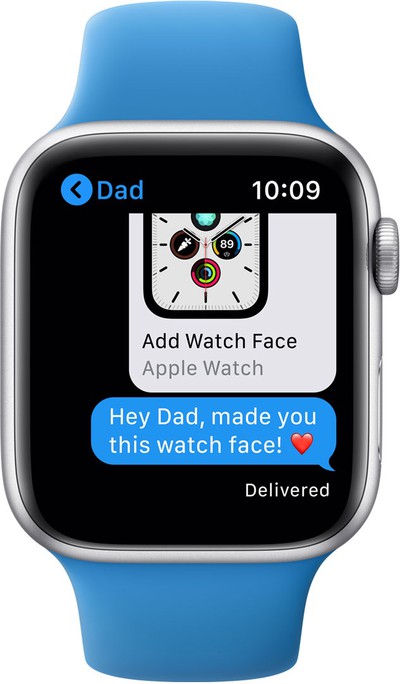 Watch faces can be downloaded from Messages or Mail, from websites, from social media, or from the App Store, with Apple's editorial team providing watch face download recommendations.
No More Force Touch
Those who have owned several versions of the Apple Watch are familiar with the Force Touch gesture that popped up interactive menus and settings when pressing down on the watch display with a finger. Apple removed Force Touch in watchOS 7, so those gestures are no longer available.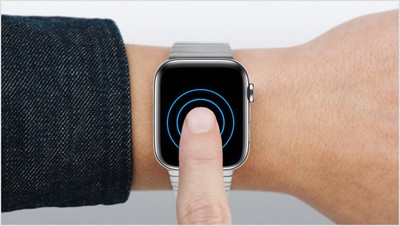 All of the functionality enabled by Force Touch continues to be accessible on the Apple Watch, but through new swipe down gestures. For the most part, anything that used to be possible with Force Touch can be done by using a finger or the Digital Crown to scroll down to access additional settings.
Clearing all notifications, for example, can be done by swiping down to the top of the notification list. Composing a message in Messages is done with the same swipe down action.
In some cases, gestures are replaced with new icons that you can tap, such as when accessing controls with the Camera app, or with new screens you can swipe between, as is the case when changing a Move Goal in the Activity app. Other options have been moved to the Settings app, and in the case of creating new watch faces, it's been swapped with a long press gesture.
Sleep Tracking
The major new addition to the Apple Watch in watchOS 7 is the new Sleep app, which lets you wear your Apple Watch while you sleep to track how well you're sleeping at night.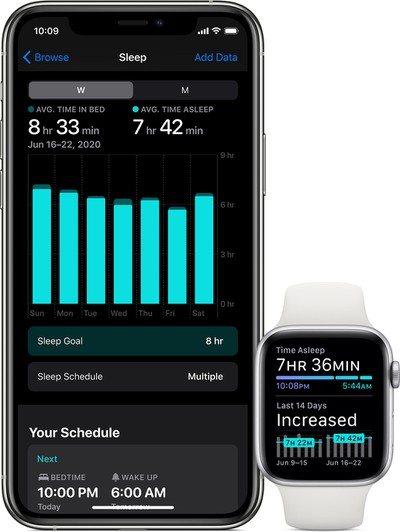 The Apple Watch uses its accelerometer to detect small movements associated with breathing that indicate sleep. Apple focused on allowing the Apple Watch to track sleep duration, which it says is the most important metric people need to be aware of.
The Health app provides a sleep analysis chart showing how much you've slept in the course of a day, a week, and a month.
The Apple Watch does not track other metrics that some sleep trackers cover, such as deep sleep, light sleep, REM sleep, and more. To help people increase total sleep time, Apple has added other new features such as Wind Down and sleep schedule options.
Sleep Mode
You can set up a sleep schedule on the Apple Watch that automatically turns on sleep mode and sends reminders ahead of when you need to go to sleep.
In sleep mode, the Apple Watch automatically turns on Do Not Disturb and keeps the screen from waking. These features are enabled for the entire sleep schedule that's set up.
When it's time to wake up, the Apple Watch can use a haptic alarm or a louder audible alarm, and it displays a weather report and battery information in the morning. If you wake up ahead of your alarm, the Apple Watch gives you the option to turn the alarm off.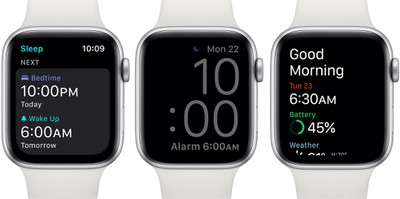 Wind Down
Accompanying Sleep Mode is a new Wind Down feature that's meant to help you establish a healthy bedtime routine to improve sleep duration.
Wind Down can offer shortcuts that help you relax, like opening a meditation app and dimming the lights.
Battery Levels
The Apple Watch sends notifications when the Apple Watch needs to be charged and when it's fully charged, so you can better monitor the daytime charging that's required to use Sleep Mode.
You'll get a notification if the battery is below 30 percent before going to bed, so you can make sure your Apple Watch has enough juice to last through the night.
Sleep Mode does use the battery at night, but as long as there's time to charge in the morning while you get ready for the day, it doesn't make a serious impact on battery life.
More Info
For a closer look at how all of the sleep features work in iOS 14 and watchOS 7, make sure to check out our Sleep Tracking guide.
Family Setup
With watchOS 7 and iOS 14, Apple introduced a new Family Setup feature that lets kids and older adults who don't have iPhones use the Apple Watch through a family member that serves as a device manager. Family Setup lets an Apple Watch be set up through a parent's iPhone, allowing kids to use an Apple Watch with no iPhone and with parental supervision.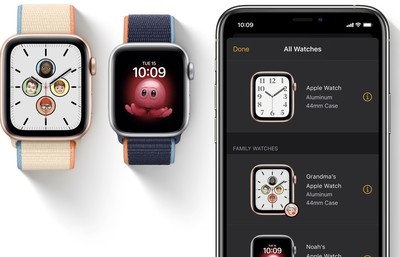 Children can use the full functionality of the Apple Watch, keeping in touch with their parents through phone calls and messages and benefitting from features like Emergency SOS, Maps, Apple Music, and Siri access. Kids can download apps from the App Store, create Memoji on the wrist, and complete Activity goals, with "active calories" replaced by move minutes.

Apple has optimized the Activity app on the Apple Watch to tune the Outdoor Walk, Outdoor Run, and Outdoor Cycle workouts for children, and kids can be motivated with emoji notifications tailored to their reading level. Kids are able to send and receive Activity Sharing invitations and challenge friends to Activity Competitions.
Using Family Setup requires children or older adults to have an LTE-enabled Apple Watch and their own phone number through a cellular plan, and each child will have their own Apple ID for using Calendar, scheduling Reminders, viewing photos from a guardian's iPhone, and even making purchases through the new Apple Cash Family feature.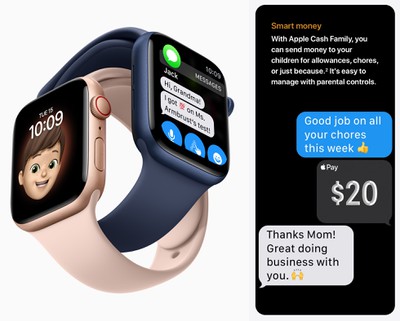 Apple Cash Family lets parents send kids money to spend on their watch using Apple Pay, with parents able to monitor purchases. Parents are able see their children's locations and get updates on that location to make sure kids are where they're supposed to be.
Family Setup lets guardians view and manage health-related information in the Health app on the iPhone, so a parent can be set as an emergency contact and medical conditions and allergies can be added to the Medical ID. This is also useful for older adults who need features like fall detection enabled.

To make sure kids aren't distracted by the Apple Watch at inappropriate times, there is a Schooltime mode that activates Do Not Disturb and limits access to Apple Watch features to keep kids on task. The Downtime feature of Screen Time also extends to the Apple Watch.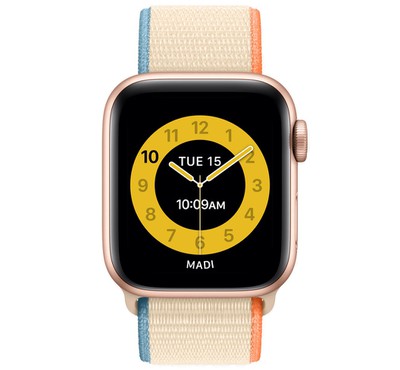 Family Setup requires both iOS 14 and watchOS 7 to use, along with compatible hardware. It requires an Apple Watch Series 4 or later or an Apple Watch SE, along with an iPhone 6s or later. For details on how to use Family Setup, make sure to check out our guide and associated how tos.
Note that with Family Setup enabled, the devices being managed are not able to take advantage of Blood Oxygen monitoring, no matter the age of the person who the device belongs to.
Handwashing Mode
watchOS 7 introduces an automatic handwashing mode that can help you make sure you're washing your hands for the recommended 20 seconds to get rid of germs.

Handwashing mode uses the Apple Watch's sensors and microphone to detect handwashing sounds and movements, and then starts a 20-second timer. The countdown is shown in bubble-like letters, with haptic feedback and a "Well Done" message when handwashing is complete.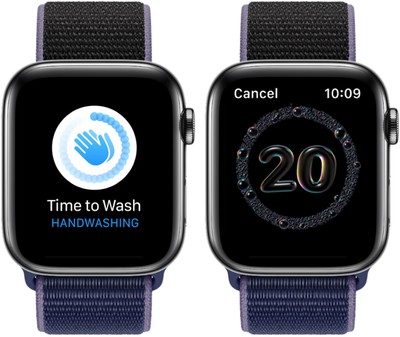 When you're washing your hands, if the Apple Watch detects that you've stopped early, it encourages you to continue, and it can also provide reminders to wash your hands when you arrive home.
Other New Features
Memoji App
With watchOS 7, the Apple Watch now includes a Memoji app that's available on the Apple Watch Series 4 and later. The Memoji app can be used to create personalized and customized Memoji that can be set as the watch face, used for stickers in Messages on watch, and used with Messages on the iPhone.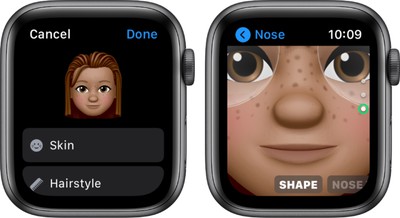 Hearing Health Improvements
Apple in watchOS 6 introduced the Noise app for alerting users when their environments are loud enough to harm their hearing health, and in watchOS 7, Apple is expanding those capabilities to earbuds and headphones.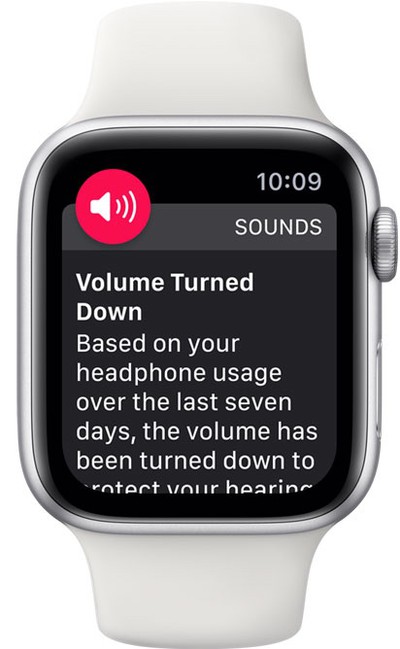 The Apple Watch provides weekly listening notifications when a recommended safe weekly listening dose has been exceeded, and the Apple Watch lowers the volume of the connected headphones accordingly.
On iPhone, a weekly summary is available in the Health app with further details on how long you've listened to high-decibel sounds each week.
Fitness App
In watchOS 7 and iOS 14, the Activity app has been renamed Fitness, and it's received a redesign. The updated Fitness app features four new workout options: Dance, Functional Strength Training, Core Training, and Cooldown.
The redesigned Fitness app on iPhone shows daily activity, workouts, awards, and activity trends all on one "Summary" page rather than having that information spread across several tabs.
The watchOS 7 update also includes customizable Stand hours and Exercise minutes, so you can choose the hours you need to stand to meet your goal and select exercise minutes.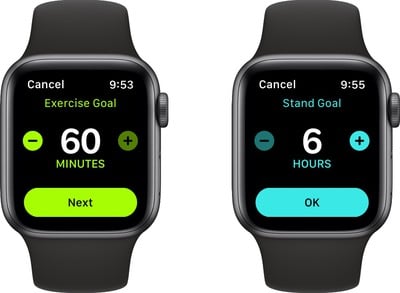 The Exercise goal can be set for as low as 10 minutes or as high as 60 minutes, while the Stand goal can be dropped to six hours. Twelve hours continues to be the maximum.
Apple Maps
As with iOS 14, the Maps app on the Apple Watch supports bike-friendly cycling routes. Bike directions let riders know where bike lanes are, which roads are busy, and where there are difficult elevation changes.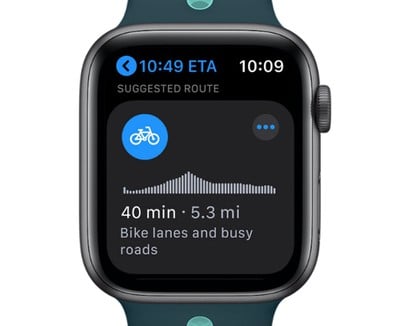 Cycling routes can be mapped with or without stairs, and routes with stairs let riders know when their bikes need to be picked up. Searching along a route is also now supported, so Maps users can add needed stops and then get right back to their original directions.
Siri
Siri provides spoken translations, so you can ask Siri to translate a word or a sentence and get it translated aloud so you can hear the proper pronunciation. Siri can translate to and from 10 languages, including Spanish, English, Japanese, Arabic, Chinese, and Russian.
Dictation in watchOS 7 is done on device, so all voice-based requests are faster, more reliable, and more private.

There's a new Siri Shortcuts app on the Apple Watch in watchOS 7 for activating shortcuts on device, and shortcuts can be added as complications for one-tap access.
Compatibility
watchOS 7 can be installed on Apple Watch Series 3, Series 4, Series 5, Series 6, and SE models. It is not compatible with the original first-generation Apple Watch, Apple Watch Series 1, or Apple Watch Series 2.
Release Date
Apple released watchOS 7 on Wednesday, September 16. It is a free update available on the Apple Watch Series 3 and later.