tvOS 12
The newest version of the operating system that runs on the fourth and fifth-generation Apple TV.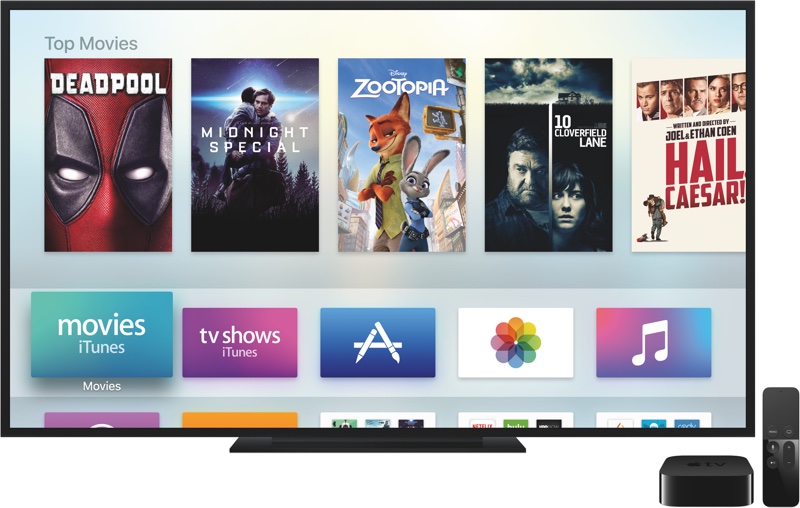 At a Glance
tvOS runs on the fourth- and fifth-generation Apple TV. Newest version is tvOS 12, available now.
tvOS 12 Features
Dolby Atmos support
Zero sign-on
Space aerial screensavers
Locations for aerial screensavers
Password AutoFill
tvOS 12
The fourth- and fifth-generation Apple TVs run an operating system called tvOS, which was built from the ground up to provide a simple, easy-to-navigate television watching experience. tvOS is designed to put content front and center, with a familiar app-centric design that's controlled through the touch-based remote and Siri voice commands.
tvOS features a full App Store for downloading a range of different apps and games that can be used on the Apple TV, along with several built-in apps, much like iOS. Built-in apps include Photos for accessing your Photo Library on the Apple TV, Apple Music, Podcasts, Computers for Home Sharing, and TV, an app that aggregates TV and movie content from a wide range of apps.
Siri integration is a key part of tvOS, allowing users to search for specific content via voice for quicker content access, and there are useful features to make television watching simpler, like single sign-on or zero sign-on for more quickly signing into third-party apps that require authentication with your cable credentials.
Apple adds new features and introduces new versions of tvOS on a regular basis, but tvOS updates have historically been smaller in scale than updates for iOS, macOS, and watchOS. Since its 2015 debut, tvOS has seen few changes to its overall design and layout, but a few new features have launched.
tvOS 12, the latest version of tvOS, was released in September 2017. tvOS 12 introduces support for Dolby Atmos sound, with Apple pledging to offer the largest collection of Dolby Atmos-supported movies in the fall.

A new zero sign-on feature simplifies the cable authentication process by allowing the Apple TV to detect a user's network and automatically sign them into apps they receive access to through a cable subscription.
New aerial screensavers created in partnership with the International Space Station have been added, and existing screensavers now include location information to let you know where they were captured.
Apple released the tvOS 12 update on Monday, September 17. tvOS 12 is available for free on all fourth and fifth-generation Apple TV models.
Current Version - tvOS 12.1.2
The current version of tvOS is tvOS 12.1.2, released to the public on January 22. tvOS 12.1.2 is minor in scale, like most tvOS updates, and appears to include bug fixes and performance improvements.
Apple has also seeded six betas of an upcoming tvOS 12.2 update to developers and public beta testers. tvOS 12.2, paired with iOS 12.2, lets you ask Siri to play content on a specific Apple TV.
You can, for example, ask Siri to play Modern Family on the TV in the living room, or play Fleetwood Mac's greatest hits on the TV in the bedroom.
tvOS 12 Features and Changes
Dolby Atmos
tvOS 12 introduces support for Dolby Atmos, one of the most wished-for features for the Apple TV 4K. When tvOS 12 launches in the fall, Apple says iTunes will be home to the largest collection of Dolby Atmos-supported videos anywhere.
Apple plans to upgrade all eligible titles with Dolby Atmos, so movies you've already purchased will be upgraded at no cost, just like when Apple introduced 4K movies to iTunes.
With the addition of Dolby Atmos support, Apple TV 4K will be the only streaming media player that offers both Dolby Atmos and Dolby Vision, for the highest-quality cinematic experience.
Zero Sign-On
For customers who get their internet access and cable subscription from the same company, there's a new zero sign-on feature that Apple has implemented in tvOS 12. With zero sign-on, the Apple TV automatically detects a user's broadband network and can sign them into all of the supported apps they receive through their subscription, with no typing required.
Zero sign-on is available to Charter Communications customers, and will expand to other providers in the future.
New Screensavers
For tvOS 12, Apple collaborated with the International Space Station National Lab and the Center for the Advancement of Science in Space to create new aerial screensavers shot from space by NASA scientists.

All aerial screensavers are also more interactive in tvOS 12, allowing viewers to see location information and swipe between aerial shots.
Other New Features
Password AutoFill - With iOS 12, Apple users can AutoFill passwords from iPhone and iPad to Apple TV to more easily sign into Apple TV apps.




Apple TV Remote in Control Center - In the Control Center on iPhones and iPads running iOS 12, the Apple TV Remote option will now be included by default to provide easier access to Apple TV controls.



Home Control Systems - Home control systems that include Control4, Crestron, and Savant can be used to control the Apple TV with tvOS 12, including using Siri for voice search and control.
Main tvOS Features
TV App
On the Apple TV, much of the content is made available through third-party apps for individual cable channels or cable services. For example, there are apps for HBO, CBS, FOX, NBC, and a range of other channels, some of which require a subscription to a cable service to access.
It's a hassle to have to navigate through dozens of apps to find all of the television content available to you, so Apple designed the TV app to do all the work for you. The TV app aggregates content from more than 60 different TV and movie apps, putting it all in one easy-to-access place.

The TV app is available on the Apple TV and iOS devices, and it keeps track of what you're watching and syncs progress across all of your devices. So if you start a TV show on your iPad, you can pause and then finish it up from the same spot on your Apple TV.
Apple's TV app will also remember what episode of a show you were on, and it'll display all of the content you've been watching in an "Up Next" section. Another section, "Watch Now," displays recommended content and a list of curated and trending TV shows and movies, while Library houses your iTunes Movie collection and Store allows for content purchases from iTunes and other services.

The TV app works hand-in-hand with single sign-on and zero sign-on, allowing you to enter your cable credentials once (or not at all for participating providers) and then sign into all of the apps you have access to through your subscription.
A dedicated hub for live sports is included within the TV app. The Sports hub offers up access to all kinds of live games, with the TV app surfacing the most interesting and exciting games based on score, time left, and more. The Sports section of the app also changes based on season and offers live content from a range of sources.

There's also a new live news section in the TV app, allowing users to get direct access to live news channels like Bloomberg, CBS News, Cheddar, CNBC, CNN, and Fox News.
Some content providers make a select amount of content available for free, but many apps require you to have an existing cable subscription to access content on the Apple TV or on mobile devices. Live content, for example, requires an appropriate subscription to access content. Like the Apple TV, the TV app itself doesn't offer its own content -- it aggregates third-party content from many sources.
The TV app is available on the Apple TV and iOS devices in the United States, Canada, Australia, France, Germany, Sweden, Norway, and the UK. A list of apps available for the TV app in each country is available in an Apple support document. Live sports and live news sections are limited to the United States and Canada.
Siri
Siri on the Apple TV is activated by pressing the dedicated Siri button on the Siri Remote and then speaking a command. Siri can respond to a huge range of requests on the Apple TV, doing everything from offering up movie recommendations to revealing the actors in a television show.

As on iOS, Siri can open apps and games and respond to commands that are more than simple content searches. For example, Siri can display sports scores, movie times, weather, and stock status. Siri can also be used to change specific settings with commands like "Turn on Enhanced Speech," a feature that boosts dialogue and softens music and sound effects, or "Turn on closed captioning" for subtitles.
Siri understands topics and can answer topic-based searches like "Show me movies from the 80s," or "Show me movies that feature dinosaurs," or "Find documentaries about architecture." Siri can also understand when multiple topics are included in a single command, such as "Show me spy movies from the 1960s" or "Show me high school comedies from the 90s."

A Siri feature called Live Tune-In lets Siri open up live TV content in apps with commands like "Watch ESPN" or "Watch CBS," and Siri can also find content within apps. For example, "find me YouTube videos with kittens" launches the YouTube app and show the relevant search results, as does a command like "find me comedies on Netflix."
Siri also works alongside a systemwide search feature in tvOS that allows searches to bring up content from multiple apps like Netflix, iTunes, Hulu, HBO Go, Showtime, and more. So if you search for something like "Harry Potter," all of the various apps where you can watch a Harry Potter movie will come up. A list of apps that support systemwide search can be found in an Apple Support document.
One of the neatest Siri perks is a feature that replays content. During a TV show or movie, ask Siri "What did he just say?" or a similar command and Siri rewinds 15 seconds and temporarily turns on captions. Rewinding and fast forwarding can also be done with voice commands like "Fast-forward five minutes," or "Play from the beginning."

Siri displays information on the cast in a movie or television show when queried. Asking questions like "Who directed this movie?" or "Who stars in this movie?" brings up a list of the cast. Siri can filter based on cast, director, date, or age rating.
With commands that bring up extra content, like behind-the-scenes information, sports scores, or weather, the information is displayed at the bottom of the Apple TV interface so it does not interrupt the show or movie that's on the screen. Tapping on the remote opens the bottom bar full screen, pausing the television show or movie that's playing, and it's simple to switch between tasks with a swipe of the remote.
HomeKit
The Apple TV, like the iPad, can serve as a home hub that connects to your HomeKit products and allows them to be accessed remotely when you are away from home. For remote access to HomeKit devices, an Apple TV or an iPad is a requirement. Otherwise, HomeKit products only work when you're connected to the same Wi-Fi network.
tvOS How Tos
More on the Apple TV
For full details on the fourth- and fifth-generation Apple TV models, make sure to check out our dedicated Apple TV roundup. It includes details on the Apple TV hardware and it has a section on Apple's efforts to build out its original content offerings.