tvOS 13
tvOS 13 is the latest version of the software that runs on the Apple TV.
By MacRumors Staff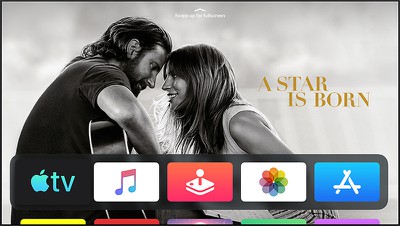 tvOS 13
The fourth- and fifth-generation Apple TVs run an operating system called tvOS, which was built from the ground up to provide a simple, easy-to-navigate television watching experience on Apple's set-top box. tvOS is designed to put content front and center, with a familiar app-centric design that's controlled through a touch-based remote or an iOS/watchOS app, and Siri voice commands.
tvOS features a full App Store for downloading a range of different apps and games that can be used on the Apple TV, along with several built-in apps, much like iOS. Built-in apps include Photos for accessing your Photo Library on the Apple TV, Apple Music, Podcasts, and Apple TV, an app that aggregates TV and movie content from a wide range of different sources.
The Apple TV app also provides Channels, letting you subscribe to and watch content from a variety of services without having to open up a third-party app, and it is the home of Apple TV+, Apple's streaming service that offers original TV shows and movies.
Siri integration is a key part of tvOS, allowing users to search for specific content via voice for quicker content access, and there are useful features to make television watching simpler, like single sign-on or zero sign-on for more quickly signing into third-party apps that require authentication with your cable credentials.
Apple adds new features and introduces new versions of tvOS on a regular basis, but tvOS updates have historically been smaller in scale than updates for iOS, macOS, and watchOS. Since its 2015 debut, tvOS has seen few changes to its overall design and layout, but a few new features have launched. tvOS 13, the newest version of tvOS, introduces some notable changes that make the TV watching experience better than ever.
There's an updated Home screen in tvOS, which is designed to make it easier to find new content to watch. Apps are able to play full-screen video previews right on the Home screen, which lets you get a quick peek at new movies and TV shows so you can decide what to watch.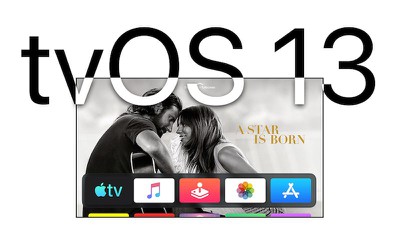 A new Control Center in tvOS lets you manage your tvOS settings, and it introduces a new feature, multi-user support. With multi-user support, each member of the family can have their own profile so each person's favorite shows and movies are always front and center. Up Next and recommendations are both personalized for each user.
Multi-user support also works with Apple Music, so each person in the family can access their personalized playlists and recommendations. The new Control Center shows what Apple Music song is playing, and onscreen lyrics display in Apple Music so you can follow along with your favorite songs.
tvOS 13 sets the stage for Apple Arcade, a new gaming service that Apple launched on September 19. Apple Arcade offers users unlimited access to more than 100 new and exclusive games for one monthly fee, with no ads or extra purchases.

For Apple Arcade, Apple added PlayStation DualShock 4 and Xbox One S controller support to the Apple TV and to iOS devices, so you can use your existing gaming controllers to play your Apple Arcade games.
There are a selection of new screensavers in tvOS 13, all of which feature under the sea scenes created by Apple in collaboration with the BBC Natural History Unit, the team behind "Blue Planet."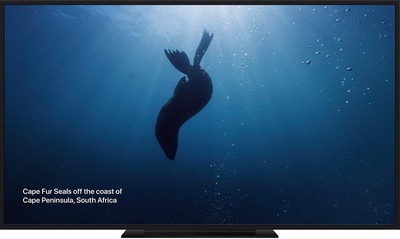 tvOS 13 launched to the public alongside iOS 13.1 and iPadOS 13.1 on September 24. The current version of the software is tvOS 13.4.8, released to the public on July 15. tvOS 13 will be replaced with tvOS 14, currently in beta testing, this fall.
Note: See an error in this roundup or want to offer feedback? Send us an email here.
tvOS 13 Changes and Features
New Home Screen
tvOS 13 introduces an updated Home screen that's aimed at discovery. Apps are now able to play full-screen video previews on the Home screen, similar to how content autoplays in Netflix.

With the new autoplay feature, users are able to get a quick glimpse at new TV shows, movies, music, and games without having to open up an app to get more information.
Picture-in-Picture
tvOS 13 introduces support for Picture-in-Picture. This feature lets you continue to watch TV shows or movies while using a different app, adjusting settings, or otherwise navigating through the tvOS 13 operating system. Small controls at the bottom of the picture-in-picture interface allow for returning to full screen, pausing content, and closing the picture-in-picture window.

Control Center
There's a new Control Center on the Apple TV, which offers up a look at the time and date, easy access to search, a Now Playing widget, AirPlay controls, a sleep feature, and, most importantly, an option to switch between users.

Multi-User Support
tvOS 13 brings multi-user support for the first time, letting more than one profile exist on the Apple TV. Each family member can have their own profile with their own personalized Apple TV interface.

Recommendations are based on TV shows and movies each person has watched, and there are separate Up Next lists for everyone. Swapping between different users can be done quickly using the new Control Center.
Apple Music Updates
Apple Music on tvOS 13 also works with multi-user support, so each person can play their own personalized playlists and get their own recommendations.
The Apple Music app on Apple TV also displays lyrics that are synced to the music, so listeners can follow along with the lyrics as the song plays.
Apple Arcade
tvOS 13 sets the stage for Apple Arcade, Apple's gaming service that's available for Apple TV, iOS, iPadOS, and macOS. Apple Arcade offers unlimited access dozens of new and exclusive games, for one subscription fee, with Apple adding new games to the service on a weekly basis.
Apple Arcade is priced at $4.99 per month and a single subscription provides access to up to six family members through Family Sharing. There are no ads or additional purchases required in Apple Arcade games, and a one-month free trial is available.
Controller Support
The Apple TV in tvOS 13 supports the Xbox Wireless Bluetooth Controller and the PlayStation DualShock 4 Controller, allowing Apple TV users to play games with console controllers they likely already have in the home.
The two controllers connect to the Apple TV using Bluetooth and work in existing games that support controllers. The controllers are also be useful for Apple Arcade games.

Wireless Audio Sync
In tvOS 13 and iOS 13, there's a new Wireless Audio Sync feature that uses the iPhone's microphone to calibrate audio synced to the Apple TV. So if you have a speaker system connected to your Apple TV and the audio is unsynchronized, this feature can solve that problem.
Using this feature, the Apple TV plays a series of tones. The iPhone measures the time it takes for it to recognize the sounds, saving the information on the Apple TV. From there, the audio can be set to send later or earlier to synchronize properly with your audio equipment or TV. Audio Sync can be initiated through the Settings app on the Apple TV.
New Screensavers
Apple teamed up with the BBC Natural History Unit, the team behind "Blue Planet," to create a series of immersive new screensavers that showcase the deep ocean around the world, showing off under the sea creatures and scenes.

Main tvOS Features
TV App
Apple overhauled the TV app in an iOS 12 update, introducing a cleaner, more streamlined look for the app along with better content recommendation algorithms, and further refinements were made in iOS 13.
The overall app interface features sections for Movies, TV Shows, Sports, and Kids content at the top on both Apple TV and iPhone, while Library houses a list of content that you've purchased from iTunes.

"Watch Now" with its "Up Next" function is still front and center in the TV app, but there's a new machine learning-based recommendation engine that surfaces personalized content suggestions for you based on what you like to watch.

Up Next continues to keep track of what you're watching so you'll never forget what episode of a TV show you're on or where you left off watching a movie, while the "For You" recommendation feature draws in content from more than 150 streaming apps, including Hulu, Amazon Prime, DirecTV Now, PlayStation Vue, and more. In addition to the "For You" section, the TV app also offers "Because you watched..." recommendations much like Netflix.
Channels
As of tvOS 12.3, the TV app includes a "Channels" section, which is a key new services feature that Apple added with the revamp. Channels are subscription services that you can sign up for and watch within the TV app without having to open up another app.
So, for example, if you come across a show you want to watch on your iPhone or Apple TV that's on Showtime, you can tap to subscribe to Showtime right in the TV app, and then you can watch that show without leaving the app.

Some of the new Channels that are supported include CBS All Access, Starz, Showtime, HBO, Nickelodeon, Mubi, The History Channel Vault, and Comedy Central Now.
You'll still get recommendations for content from services that aren't a part of Channels, so while Hulu isn't something you can subscribe to and watch in the TV app itself (you need to watch Hulu content in the Hulu app), you can still see Hulu content suggestions just like the original TV app.
Availability
The TV app is available on iPhones, iPads, the Apple TV, and the Mac. Apple has also brought the Apple TV app to Roku and the Amazon Fire TV, plus smart TV offerings from companies that include Sony and Samsung.
Apple TV+
Apple TV+ is Apple's new streaming television service, which launched in November 2019. Apple TV+ offers all of Apple's original TV shows and movies, such as "For All Mankind," "Dickinson," "Servant," and "The Morning Show."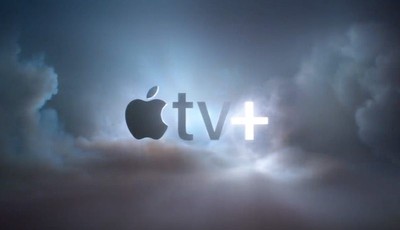 Apple TV+ costs $4.99 per month, and up to six members of a family can share access to one subscription using Family Sharing. Apple is giving all customers who purchase an iPad, iPhone, Mac, or Apple TV as of September 10, 2019, a free one-year subscription to Apple TV+.
For more information on Apple TV+, make sure to check out our Apple TV+ guide.
Original TV Shows and Movies
Apple has more than two dozen original television shows and movies in the works, many with high-profile actors, actresses, directors, and producers. We have a full guide with a list of all of the TV and movie projects Apple has in development available here.
Siri
Siri on the Apple TV is activated by pressing the dedicated Siri button on the Siri Remote and then speaking a command. Siri can respond to a huge range of requests on the Apple TV, doing everything from offering up movie recommendations to revealing the actors in a television show.

As on iOS, Siri can open apps and games and respond to commands that are more than simple content searches. For example, Siri can display sports scores, movie times, weather, and stock status. Siri can also be used to change specific settings with commands like "Turn on Enhanced Speech," a feature that boosts dialogue and softens music and sound effects, or "Turn on closed captioning" for subtitles.
Siri understands topics and can answer topic-based searches like "Show me movies from the 80s," or "Show me movies that feature dinosaurs," or "Find documentaries about architecture." Siri can also understand when multiple topics are included in a single command, such as "Show me spy movies from the 1960s" or "Show me high school comedies from the 90s."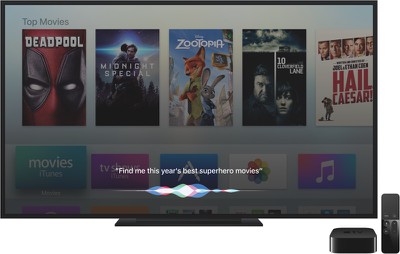 A Siri feature called Live Tune-In lets Siri open up live TV content in apps with commands like "Watch ESPN" or "Watch CBS," and Siri can also find content within apps. For example, "find me YouTube videos with kittens" launches the YouTube app and show the relevant search results, as does a command like "find me comedies on Netflix."
Siri also works alongside a systemwide search feature in tvOS that allows searches to bring up content from multiple apps like Netflix, iTunes, Hulu, HBO Go, Showtime, and more. So if you search for something like "Harry Potter," all of the various apps where you can watch a Harry Potter movie come up. A list of apps that support systemwide search can be found in an Apple Support document.
One of the neatest Siri perks is a feature that replays content. During a TV show or movie, ask Siri "What did he just say?" or a similar command and Siri rewinds 15 seconds and temporarily turns on captions. Rewinding and fast forwarding can also be done with voice commands like "Fast-forward five minutes," or "Play from the beginning."

Siri displays information on the cast in a movie or television show when queried. Asking questions like "Who directed this movie?" or "Who stars in this movie?" brings up a list of the cast. Siri can filter based on cast, director, date, or age rating.
With commands that bring up extra content, like behind-the-scenes information, sports scores, or weather, the information is displayed at the bottom of the Apple TV interface so it does not interrupt the show or movie that's on the screen. Tapping on the remote opens the bottom bar full screen, pausing the television show or movie that's playing, and it's simple to switch between tasks with a swipe of the remote.
HomeKit
The Apple TV, like the iPad, can serve as a home hub that connects to your HomeKit products and allows them to be accessed remotely when you are away from home. For remote access to HomeKit devices, an Apple TV or an iPad is a requirement. Otherwise, HomeKit products only work when you're connected to the same Wi-Fi network.
tvOS How Tos
Compatibility
tvOS 13 is designed to run on the fourth and fifth-generation Apple TV models. It is not compatible with earlier versions of the Apple TV, as those models do not support tvOS.
More on the Apple TV
What's Next for tvOS
tvOS 14, coming this fall, expands Picture in Picture mode across the operating system, adds audio sharing for connecting two AirPods to one Apple TV, brings support for watching 4K video in the YouTube app, and more, with full details available in our tvOS 14 roundup.
tvOS 13 Timeline