As laptops have seen simplified connectivity options in recent years, many users have embraced a variety of USB-C and/or Thunderbolt hubs and docks to increase their connectivity options. These accessories have proven particularly popular with users seeking to replicate a desktop experience at home or in the office with one or more external displays.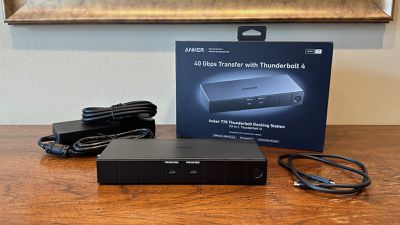 Anker recently launched a new option for power users with the 778 Thunderbolt Docking Station, a Thunderbolt 4 dock that provides a wealth of ports for connecting displays, external drives, and other accessories, all through a single cable that can also charge your laptop.
The 778 Thunderbolt Docking Station includes a total of 12 ports: an upstream Thunderbolt 4 port that provides up to 100W of charging power for your laptop, a downstream Thunderbolt 4 port, two USB-C ports that each support up to 10Gbps data speeds and 30W of charging power, two 5Gbps USB-A ports, two 480 Mbps USB-A ports for peripherals like a wired keyboard and mouse, a Gigabit Ethernet port, an 8K HDMI 2.1 port, and two DisplayPort 1.4 ports.


The two USB-C ports, a power button, and an LED status light are located on the front of the dock for easy access, while the upstream Thunderbolt port is on the left side and a Kensington NanoSaver-style lock slot is on the right side. All other ports are on the rear of the dock to keep the cables organized and out of the way.
The overall design is pretty straightforward with a non-obtrusive dark gray and black look including subtle Anker branding on the top of the dock. The main shell appears to be made of something like aluminum, while the front and rear panels with the majority of the ports are made of plastic with vertical grooves at regular intervals to provide a little bit of visual interest. A couple of rubber-like strips on the bottom help protect surfaces and provide just a bit more airflow around the dock.


I found solid data speeds for external SSDs connected via the dock in my testing, with a USB-C drive delivering around 700 MB/s for read and write when connected to either the downstream USB-C/Thunderbolt 4 port or one of the USB-C ports. Using a faster Thunderbolt external SSD connected to the Thunderbolt 4 port, I saw read speeds of around 2,500 MB/s and write speeds in excess of 1,800 MB/s. All of those stats were in line with what I see for those drives when connected directly to my 16-inch M1 Pro MacBook Pro.
There are a couple of notable limitations for Mac users with this dock, led by the fact that it does not support M1 and M2 MacBook models, so you need to be using a higher-end model with a Pro, Max, or Ultra chip.


Another limitation for Mac users is related to the connectivity options for multiple external displays. While there are two DisplayPort ports and an HDMI port, connecting two displays to any combination of those ports will only let one of the displays extend your desktop to an external screen. The other display will only be able to mirror either the first external screen or your internal Mac display.
Triple-display (two external and one internal) setups are still possible on Macs, but one of the external displays must be connected via USB-C/Thunderbolt in order to fully extend across all three displays. Setups with three or even four external displays are possible for Mac users, but will involve some mirroring, limiting the usefulness.
For Mac users, the Thunderbolt port can support up to a 6K display at 60Hz, while the HDMI and DisplayPort ports each support a maximum of 4K at 60Hz.
On the charging front, I noted that the upstream Thunderbolt port can deliver 100 watts to your laptop, but there is some power sharing that will reduce that depending on what else is drawing power via the dock. With one of the front 30W USB-C ports in use, the upstream Thunderbolt will continue to deliver up to 100W, but if both front USB-C ports are in use simultaneously, that available Thunderbolt power drops to 65W.
To drive everything, the 778 dock comes with a 180-watt external power supply that is nearly as big as the dock itself, but at least it can be tucked away on the floor or behind other equipment. A 0.7-meter Thunderbolt 4 cable is also included, and the dock is covered by an 18-month warranty.
A simple Anker Dock Manager app is also available to manage firmware updates for the dock, access the user manual, and contact Anker support.


The 778 Thunderbolt Docking Station is normally priced at $379.99, but Amazon is currently offering a 20% discount to $303.00, which makes it easier to recommend as an option for users who have heavier connectivity needs.
Users with simpler needs can probably get away with a cheaper USB-C or Thunderbolt dock, but the 778 delivers high bandwidth through a variety of ports, offers flexible display connectivity, and can push 100 watts of power to your notebook, making it a solid docking option.
The 30-watt USB-C ports on the front are nice for charging an iPhone and/or iPad at high speed, though your passthrough computer charging will take a hit if you have too many things connected. The dock also does not include an SD card slot or any dedicated audio ports, so that's something to be aware of if those features are important to you.
Note: Anker provided MacRumors with the 778 Thunderbolt Docking Station for the purpose of this review. No other compensation was received. MacRumors is an affiliate partner with Anker and Amazon. When you click a link and make a purchase, we may receive a small payment, which helps us keep the site running.