Thunderbolt 4
By MacRumors Staff
Thunderbolt 4 Articles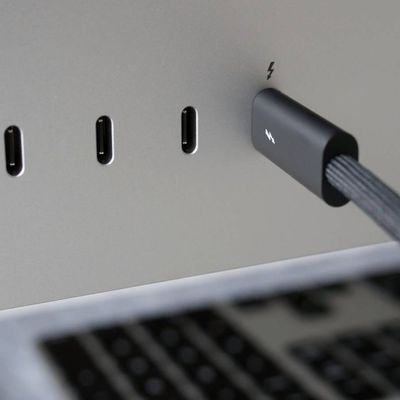 Apple recently started selling a 3-meter Thunderbolt 4 Pro cable through its online store, as spotted by French website MacGeneration. The cable can be used to connect a Mac equipped with Thunderbolt ports to Apple's new Studio Display and other peripherals. Image Credit: MobileSyrup Priced at $159 in the United States, the 3-meter cable provides users with a longer option than the 1-meter...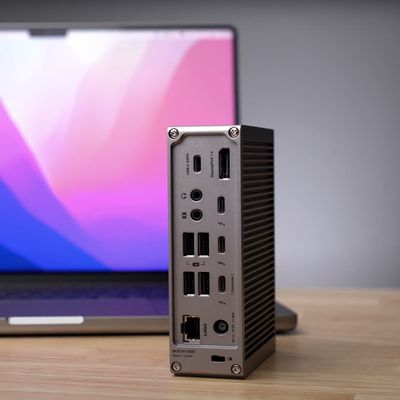 CalDigit today introduced its new Thunderbolt Station 4 dock with 18 ports, which it claims is the most on any Thunderbolt dock ever. The dock features three Thunderbolt 4 ports, with one of them providing up to 98W of pass-through charging to compatible Macs, including the latest 14-inch and 16-inch MacBook Pro. The dock is also equipped with three USB-C ports (3.2 Gen 2), five USB-A ports...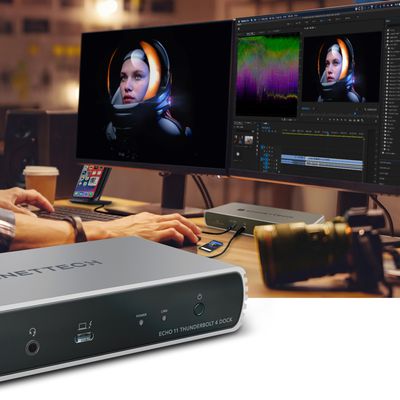 Accessory maker Sonnet today introduced the Echo 11 Thunderbolt 4 Dock, which greatly expands a Mac's connectivity options for storage drives, external displays, and more. The dock is equipped with four Thunderbolt 4 ports, four USB-A ports (three 3.2 and one 2.0), one Gigabit Ethernet port, one 3.5mm combo audio jack, and one SD card slot. The dock is compatible with all Intel-based and...

CalDigit today introduced a new "Element Hub" dock, equipped with four Thunderbolt 4 ports and four USB-A ports for connecting external displays, storage drives, and other peripherals to devices like a MacBook Pro or iPad Pro. For data transfer, the Thunderbolt 4 ports provide speeds up to 40Gb/s, while the USB-A ports can reach up to 10Gb/s. Given that Thunderbolt 4 shares the same...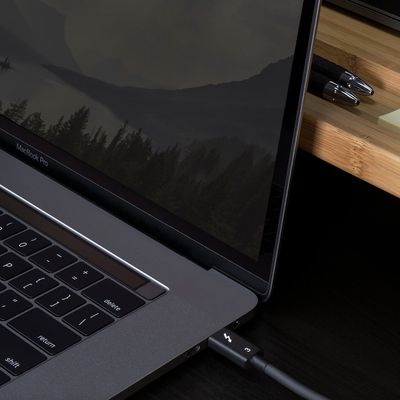 CalDigit today unveiled a new Thunderbolt 4 dock with a wide selection of connectivity options, including three USB-A ports, one USB-C port, two HDMI 2.0 ports, a Gigabit Ethernet port, an SD card slot, and a 3.5mm headphone jack. The dock also has a Thunderbolt 4 port that allows it to be connected to a Mac with a single cable, with up to 94W of pass-through charging for the latest MacBook...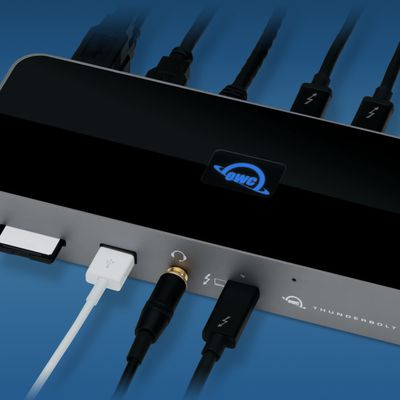 Ahead of CES 2021, OWC is introducing four new products compatible with Macs, including the Thunderbolt Dock, USB-C Travel Dock E, Envoy Pro FX storage drive, and U2 Shuttle storage carrier for 3.5-inch drive bays. OWC's Thunderbolt Dock Priced at $249, the Thunderbolt Dock is equipped with four Thunderbolt 4 ports, four USB-A ports, a Gigabit Ethernet port, an SD card slot, and a combo 3.5mm ...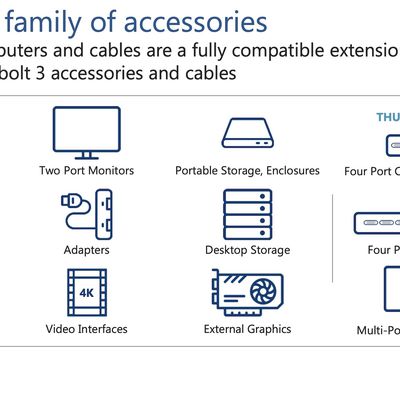 Intel today shared some new details on the upcoming launch of Thunderbolt 4, which is set debut later this year. While Thunderbolt 4 won't deliver any increase over the maximum 40 Gb/s available on Thunderbolt 3, there are some notable improvements such as universal cables up to two meters long without needing to resort to active cables that omit support for slower USB standards as on...