iPhone 14 Pro's Dynamic Island Gets the Android Treatment in Latest Copycat Effort
Last September, Chinese smartphone maker realme hosted an online competition titled "What's your dream island like?" in which it asked its "loyal fans" to submit ideas for how it could implement what was essentially a copycat version of ‌the iPhone 14 Pro's Dynamic Island‌ on its own devices. So, what version of Apple's innovation did the company settle on?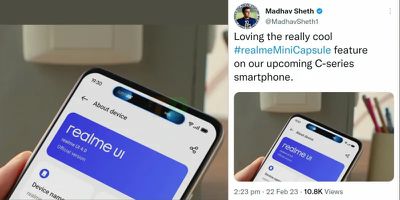 As reported by Smartprix, realme CEO Madhav Sheth briefly shared an image on Twitter of what he calls the "Mini Capsule," a new feature of the company's upcoming C-series phone that looks similar to Apple's Dynamic Island, just with nowhere near the functionality.
Based on the image, and a video subsequently shared by @OnLeaks, realme's slightly wider Mini Capsule looks as if it is limited to animating in response to battery charging status, and that's about it. If the feature does anything else, realme isn't letting on.
By contrast, Apple's Dynamic Island utilizes the pill-shaped area at the top of the display to showcase relevant contextual app and system information to users. When making an Apple Pay payment, for example, Dynamic Island expands into a square shape to match the Face ID confirmation interface, and when on a phone call, it expands to be larger so you can have phone controls right at your fingertips.
realme isn't the only Android device maker to co-opt Apple's latest iPhone UI feature. Chinese brand LeEco has also launched a new smartphone that's basically a shameless knockoff of the iPhone 14 Pro series, right down to the triple-lens rear camera design and Dynamic Island. There have also been apps in Android's Google Play Store that attempt to replicate the look and behavior of Dynamic Island.
Rumors suggest this year's iPhone 15 models will look similar to the iPhone 14 models, but the pill-and-hole cutout will expand to the entire lineup. That means all iPhone 15 models will have no notch, instead adopting the Dynamic Island introduced in the iPhone 14 Pro models.