United Airlines Adds Live Activities and Dynamic Island Support for Flight Tracking
United this week announced that it has updated its iPhone app to add support for Live Activities and the Dynamic Island, allowing United passengers quicker access to flight tracking information.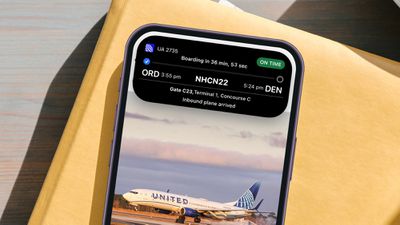 With Live Activities integration, customers have access to their boarding passes, gate, and seat number, as well as a countdown clock to their departure time. The information is visible on the Lock Screen even when the ‌iPhone‌ is locked and the United app is closed, and on the iPhone 14 Pro and Pro Max, it can also be viewed in the ‌Dynamic Island‌.
According to United, it is the first U.S. airline to implement support for Live Activities, and the feature was added as United customers check their mobile boarding pass and flight status nearly 800,000 times each day.
When it's time to board the plane, the Live Activities widget can be tapped to open up the boarding pass, and during the flight, there's an in-flight countdown. The United Live Activities integration also offers access to flight number, flight status, inbound aircraft status, estimated departure and arrival times, departure and arrival gates, and baggage carousel information.
United said that Live Activities would be widely available to all United customers by the end of May, but there are already many users who have reported being able to access the feature. Requirements include an up-to-date United app and an ‌iPhone‌ running iOS 16.1 or later.
(Thanks, Adam!)