Apple-1
By MacRumors Staff
Apple-1 Articles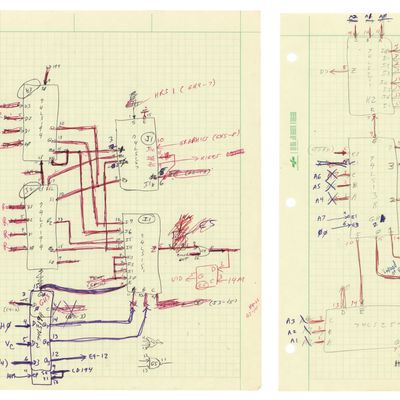 A set of schematics and programming instructions for a prototype version of the Apple II home computer recently sold for $630,272 from RR Auction, the company said today. The documents were written by Apple co-founder Steve Wozniak and included five pages of circuit schematics and notes on sheets of graphic paper, a 12-page handwritten programming instruction guide with 28 steps, and six...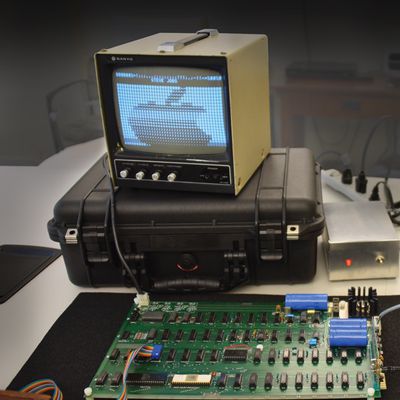 There are a limited number of original Apple-1 computers left in the world, and every so often, one comes up for auction. Available starting December 10, a new Apple-1 auction will see RR Auction selling a functional Apple-1 computer with an original box that's been signed by Steve Wozniak. Apple-1 machines were the first computers produced by Apple and sold by Steve Jobs out of his parents' ...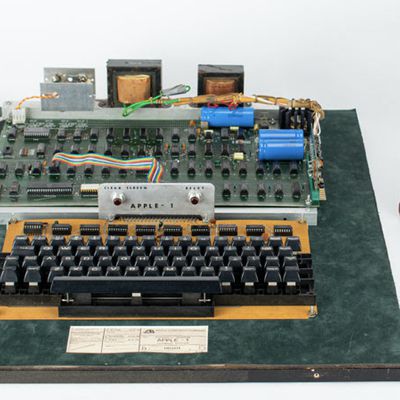 A rare fully functional Apple-1 computer has sold for $458,711 at auction this week, according to Boston-based RR Auction. RR Auction says the computer was acquired by Michigan computer store SoftWarehouse in the 1980s as part of a trade for a newer IBM machine. It was subsequently displayed in the store in a custom-made museum style case, before being placed into storage. The computer was...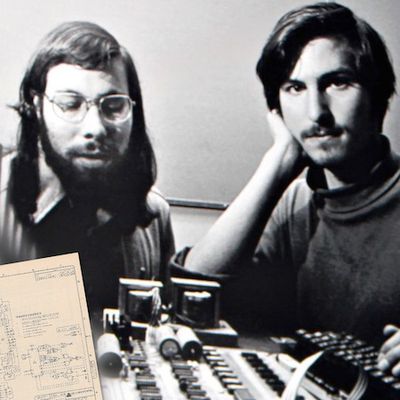 Back in 1976, Apple released its first computer, the Apple I. Over a span of about ten months, Apple co-founders Steve Wozniak and Steve Jobs produced about 200 of the computers and sold some 175 of them, making it a valuable collector's item that has fetched up to $905,000 at auction in recent years. As a testament to just how rare the computer is, an "extremely rare" Apple I operation...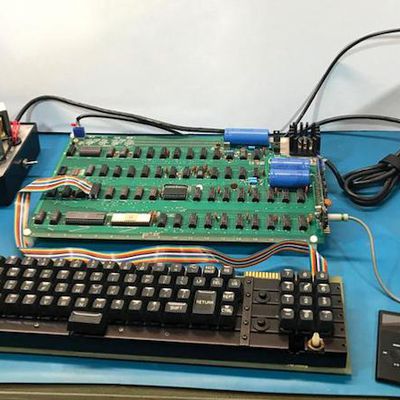 The latest Apple-related auction will kick off on September 25, offering bidders the chance to get their hands on a rare Apple-1 computer. On sale by RR Auction, the Apple-1 is fully operational and one of around 70 Apple-1 computers that remain of the first 200 built by Steve Jobs and Steve Wozniak in 1976. Executive vice president at RR Auction, Bobby Livingston, says that the Apple-1...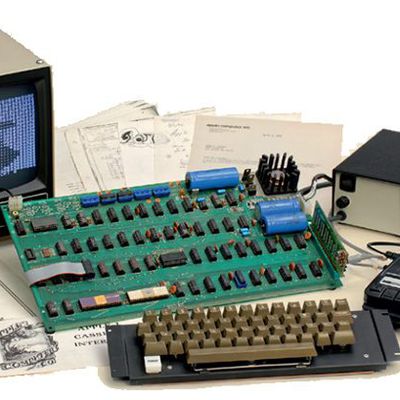 A rare working Apple-1 computer that was built in Steve Jobs' garage has been sold at auction in Germany for over $130,000 (via news24). The highly sought-after vintage computer auctioned off in Cologne on Saturday was one of just 200 that the late Apple co-founder and Steve Wozniak designed and marketed in 1976. The owner John Dryden, a Californian software engineer, admitted that...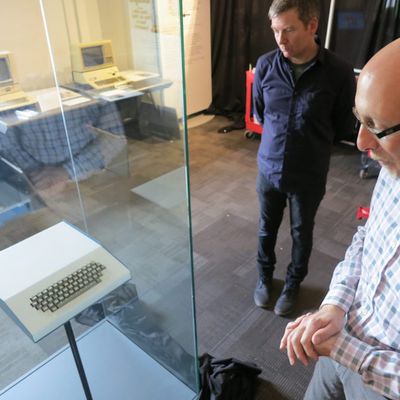 Living Computers: Museum + Labs in Seattle, which is dedicated to showcasing the history of computing devices from around the world, is this Friday opening up a wing focused on all things Apple. Called the "Apple Computer Exhibit," visitors will be able to walk through the first two decades of Apple's products and advances in technology, ranging specifically from 1976 to 1999 (via GeekWire). Th ...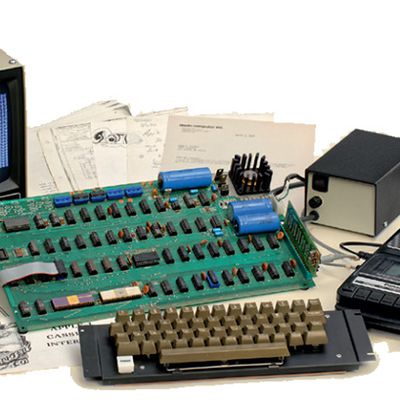 In 1976, Apple co-founder Steve Wozniak designed and built the Apple I, or Apple-1, the company's first computer. Of the 175 sold, only 50 to 60 or so remain in existence, including just eight functioning ones, making the iconic machine a rare collector's item worth significantly more than its original $666.66 price. On May 20, German auctioneer Breker told MacRumors it will be auctioning off...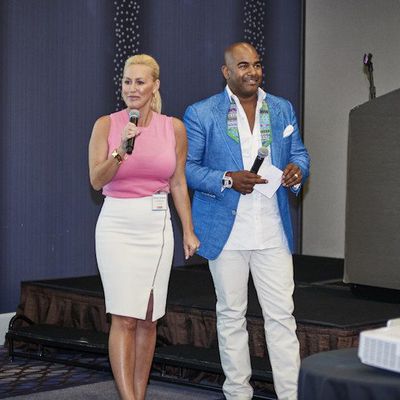 After placing the winning $815,000 bid on the rare "Celebration" Apple-1 computer last week, Glenn Dellimore spoke with Business Insider about his reasons for purchasing the computer. Dellimore made the decision with his wife, Shannnon, and the two were not only prepared to pay up to $2 million for the piece of Apple history, but both see it only increasing in value over the years. The...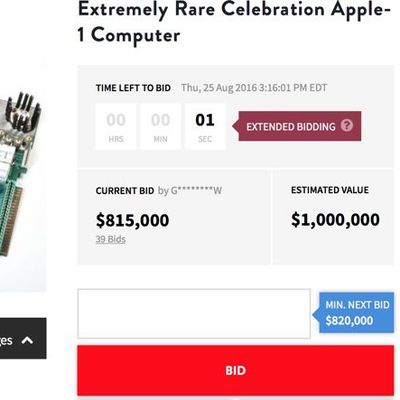 A rare "Celebration" Apple-1 computer has fetched $815,000 in an auction hosted by charity auction site CharityBuzz, one of the highest prices an Apple-1 has sold for at auction. During the final minutes of the auction, bids reached $1.2 million, but it appears the last bid was pulled just seconds before the auction ended. The "Celebration" Apple-1, so named by computer historian Corey Cohen,...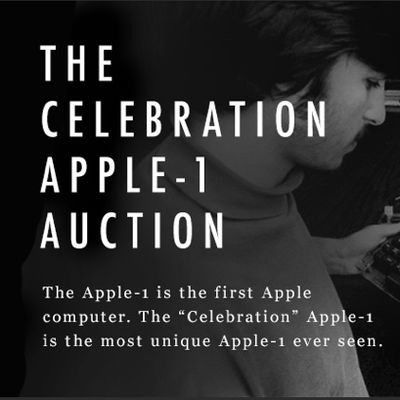 During the summer of 1976, Steve Jobs and Steve Wozniak created and sold 175 Apple-1 computers, marking the launch of what is now one of the most valuable, influential companies in the world. Only 60 or so of those original machines are still in existence, fetching hundreds of thousands of dollars at auction. This Monday, auction site CharityBuzz is set to auction off one of the rarest Apple-1 ...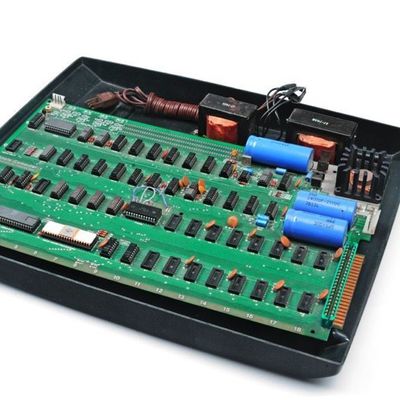 A rare functional Apple-1 Personal Computer has popped up on eBay this week after its owner decided to downsize his Apple collection. The Apple-1 computer, called the Copson Apple-1 by its current owner, is one of less than 50 known machines in existence. Apple-1 computers are popular with collectors as they were the first computers produced by Apple and were sold by Steve Jobs out of his...