A rare working Apple-1 computer that was built in Steve Jobs' garage has been sold at auction in Germany for over $130,000 (via news24).
The highly sought-after vintage computer auctioned off in Cologne on Saturday was one of just 200 that the late Apple co-founder and Steve Wozniak designed and marketed in 1976.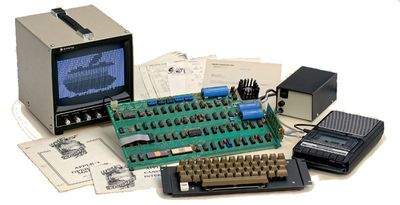 The owner John Dryden, a Californian software engineer, admitted that finally parting with the machine was difficult. "(The Apple 1) was one of the first opportunities for someone to possess a real computer," he said. "I'd been working with computers for a while but they were huge."
The Apple-1 was sold with the original receipt for the motherboard and cassette recorder, an operating manual, and even notes of telephone conversations between Dryden and Wozniak from 1977. Apple never offered an external housing for the computer, while the power supply, keyboard, monitor, and cassette recorder had to be obtained separately by the owner.
This machine was actually expected to fetch significantly more than it did this weekend, after an Apple-1 sold for a record $905,000 at a Bonhams auction in New York in October 2014. More recently, a unique "celebration" model went for $815,000 at a CharityBuzz auction in August of last year.
Breker's auction house, which hosted the sale and specializes in technical antiques, put the lower price down to a settling of Apple "hype", now coming over five years after the death of Steve Jobs. The winning bidder was a German engineer who collects old computers.
The 8K machine, which originally sold for $666 over 40 years ago, is one of just eight still in working order. There are thought to be only around 50 to 60 Apple-1 computers still in existence.