Signed Apple-1 and Sealed Original iPhone Expected to Fetch High Prices at Auction
Apple-1 computers are some of the rarest and most expensive Apple-related collectors items that go up for sale, and RR Auction today announced a "Steve Jobs and the Computer Revolution" auction that includes an Apple-1 computer.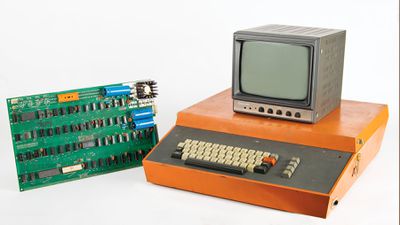 The Apple-1 for sale is "undiscovered," as it was not on the known list of remaining Apple-1 devices until 2023. It was first used as a demonstration system at the Data Domain computer store in Columbus, Indiana in 1977. After that, it was given to the current owner.
The machine was signed by Apple co-founder Steve Wozniak and it is in full operational condition. There were around 200 Apple-1 computers produced in 1976, and 175 of those were sold. A limited number of the devices remain, and they can sell for
upwards of $400,000
. The Data Domain Apple-1 is considered an "exceptional and historic" example of one of the machines, and RR Auction expects it to sell for over $500,000.
An original, sealed iPhone is up for sale as well, notable as a sealed first-generation ‌iPhone‌ just sold for more than $63,000, quite a premium over the initial $599 retail price. Bids for the RR Auction model are already at $5,000, and it is expected to sell for well over $20,000.
Other items up for sale include notes handwritten by Steve Jobs, a Steve Jobs-signed check, a Steve Jobs business card, an Apple IIe, a Macintosh 128K prototype computer, an Apple Lisa, an Apple Computer stock certificate, an Apple Computer latch hook rug, a collection of Apple pins and keychains, and more.