Living Computers: Museum + Labs in Seattle, which is dedicated to showcasing the history of computing devices from around the world, is this Friday opening up a wing focused on all things Apple. Called the "Apple Computer Exhibit," visitors will be able to walk through the first two decades of Apple's products and advances in technology, ranging specifically from 1976 to 1999 (via GeekWire).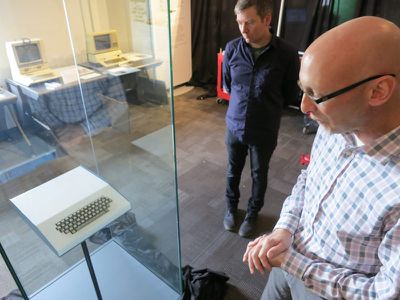 The prototype Apple 1 computer on display
The exhibit will house what Living Computers executive director Lāth Carlson described as "the most important computer in history," a prototype Apple I that sat in Steve Jobs' office and was used as a demo model in the early years of the company. Visitors will be able to interact with an Apple 1, although it'll be a different version than the Jobs machine, while also viewing Apple computers like the Apple II, IIe, IIc, Apple III, Lisa, and various Macintosh computers.
Although Carlson admitted that Jobs' Apple 1 is "also the most boring to look at," its importance has earned it a spot as the centerpiece of the new exhibit.

"About 200 of these were made, around 70 are known to have survived, and around seven are operable," Carlson told GeekWire while showing off the museum's working 1976 Apple I. "We're going to be running Steve Wozniak's version of BASIC that he wrote on it."
The exhibit includes details about Steve Wozniak and Steve Jobs, the Homebrew Computer Club in Palo Alto, the original $666.66 price point for the Apple I, and "much more." A point of focus in the new exhibit is Apple's early connection with Microsoft, and the museum itself was founded by Paul Allen, who co-founded Microsoft with Bill Gates.

"We've always actually had a fairly significant Apple collection, and we've always had Apples on display," Carlson said. "I think people a lot of times come here and are a little surprised to see that. They associate us with Paul Allen, with Microsoft. And a lot of times people don't realize Microsoft provided a lot of the early software and hardware for Apple, and continued to over the years. When Steve Jobs went back to Apple, there was a significant investment by Microsoft — $150 million — to keep the company basically going. And they agreed to keep providing Office for Macs."
The Apple 1 in question is said to have been used by Jobs and Apple's first investor, Mike Markkula, as a modified version of the basic computer that the company used to take on the road and showcase its capabilities to potential investors. The machine was left behind by Jobs when he left Apple in 1985, and when Apple allowed employees to clean out his office, an engineer named Don Hutmacher ended up going home with the Apple 1.
When Hutmacher passed away this past year, his family discovered the Apple 1 sitting in his garage, leading to its new residence at Living Computers. Overall, the Apple exhibit in the Seattle-based museum is said to organically fit into the overall story of Living Computers, including the rise of IBM and its support of Microsoft that lead to industry domination. Diverging paths will allow visitors to witness the emergence of Windows 95 in one direction, or the new "evolving story" of Apple in the other direction.