The latest Apple-related auction will kick off on September 25, offering bidders the chance to get their hands on a rare Apple-1 computer. On sale by RR Auction, the Apple-1 is fully operational and one of around 70 Apple-1 computers that remain of the first 200 built by Steve Jobs and Steve Wozniak in 1976.
Executive vice president at RR Auction, Bobby Livingston, says that the Apple-1 originates from a person who purchased it at The Byte Shop, the store where Jobs and Wozniak originally sold the computers for $666.66. The owner learned BASIC on the computer, wrote small programs, and decided to hold onto the Apple-1 after it became outdated, "realizing it could one day be a piece of computing history." He then tried to sell the Apple-1 to Wozniak in 1982 for $10,000, which "went unanswered."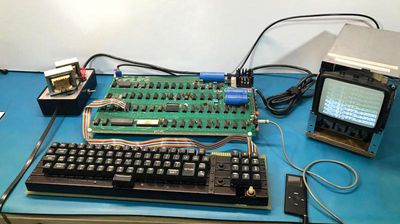 The new auction will start at $50,000, and is estimated to end between $300,000 and $400,000.

This Apple-1 computer was restored to its original, operational state in June 2018 by Apple-1 expert Corey Cohen, and a video of it running and functioning is available upon request. A comprehensive, technical condition report prepared by Cohen is available to qualified bidders; he evaluates the current condition of the unit as 8.5/10. The most remarkable aspect of this Apple-1 computer is that it is documented to be fully operational: the system was operated without fault for approximately eight hours in a comprehensive test.
Apple-1 computers have been up for auction a few times in the past few years, and the record auction price for an Apple-1 was established in 2016 when one of the computers sold for $815,000. That computer was the "Celebration" Apple-1 and was very rare due to its blank "green" PCB board that was never sold to the public and was not a part of a known production run. Slightly more common, publicly-sold units have recently sold for $130,000.
Additionally, the auction is being promoted with a unique digital "DNA" scan, performed by Invaluable with technology built by Artmyn. This technology scans artwork and objects like the Apple-1, capturing "tens of thousands of photographs" using various light sources and spectrums, including UV lights. The scan generates a "5D interactive file" and an immersive video that lets owners, auction houses, consignors, and buyers see greatly detailed angles, views, and textures for the scanned objects.

The video for the Apple-1 can be seen
on Vimeo
.
"We couldn't be more excited about the sale of this historic piece of technology," said Invaluable CEO Rob Weisberg. "The innovative scanning technology we're showcasing is a giant step towards greater transparency in the art and collectibles market that we believe will increase buyer confidence in the online art market. To showcase it with an Apple-1 is just incredible and fitting."

In the case of the Apple-1, the scan will allow a 5D look at the iconic desktop, offering zeroed-in views of distinguishing details on the top and bottom of the piece.
The auction for the Apple-1 will take place at 1 p.m. on September 25, 2018 at WeWorks in Boston.