AirPower Revived?
Though Apple decided not to make the AirPower after announcing it, there have been rumors that the Cupertino company is still quietly working on a wireless charging solution.
In January, Apple analyst Ming-Chi Kuo, who often accurately predicts Apple's product plans, said that Apple was working on a "small wireless charging mat" to be released at some point in 2020. No other details were included.
In March, YouTuber Jon Prosser claimed that "AirPower isn't dead" and that the project was "back on internally." Prosser said that there's no guarantee that the product will be finalized and released, but Apple "hasn't given up yet" and is attempting to "re-engineer the coils" to more effectively displace heat.
Prosser in June 2020 said that Apple has overcome issues with Apple Watch charging and he shared a "prototype" of the device, known as C68 internally. The charger is allegedly equipped with an A11 chip and a reduced number of coils compared to the original AirPower. Prosser has said the device could launch as early as Q4 2020 and it will cost around $250.
The "prototype" images shared by Prosser ultimately turned out to be fake and of a clone device that's not an AirPower and not designed by Apple, so it's not clear if Prosser's other information is correct.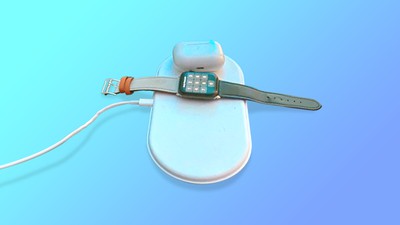 The alleged "AirPower" prototype that turned out to be fake
It's worth noting that other reliable Apple rumor sources, such as Bloomberg's Mark Gurman, do not believe that Prosser's AirPower leaks are accurate, but there there does still appear to be some kind of wireless charger in development if Kuo is to be believed.
A video of a curious Apple wireless charger prototype surfaced in September, but it's not clear what it is or what it's for. It looks like part of a larger accessory, though that does not mean that it's something designed for release.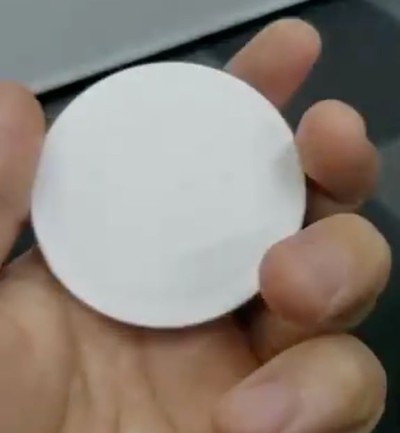 It could possibly be an accessory for use in Apple Stores for displaying products, or something provided to Apple's Made for iPhone partners. It does appear to match up with part leaks that have suggested the iPhone 12 models will have magnets inside that will let them better attach to wireless charging accessories.
Apple Cancels AirPower - March 2019
Apple has canceled all work on the AirPower and has no plans to release the device. In a statement provided to TechCrunch, Apple's senior VP of hardware engineering said that the AirPower was unable to achieve Apple's high standards for products and that work on the project was ceasing.
"After much effort, we've concluded AirPower will not achieve our high standards and we have cancelled the project. We apologize to those customers who were looking forward to this launch. We continue to believe that the future is wireless and are committed to push the wireless experience forward."
Leaked AirPower Internal Photos
Photos allegedly from the now-discontinued AirPower surfaced on social networks in August 2020, depicting a multi-coil design that would have been used to charge an ‌iPhone‌, Apple Watch, and AirPods no matter where they're placed on the mat.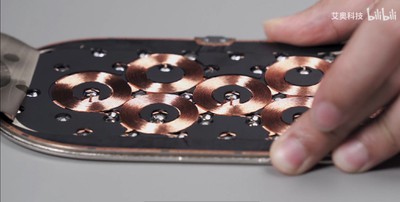 There's also a circuit board laden with chips that would have served as the brains of the device. We don't know if these photos actually depict the ‌AirPower‌ as there's nothing in the design that specifically ties them to Apple, but it can't be ruled out either.


If the photos are real, they appear to be from the AirPower that was discontinued in 2019 rather than a new wireless charger that's in the works.

AirPower Alternatives
Though the AirPower has been canceled, there are some alternative third-party options that are designed to charge multiple devices at once. No third-party charger does exactly what the AirPower promised because that was an impossibility, but they do all charge more than one device, and some of them are able to charge ‌AirPods‌, ‌iPhone‌, and Apple Watch all together.


Check out our dedicated AirPower Alternatives guide to see the full list of options.
What was AirPower?
AirPower was an Apple-designed charging mat designed to charge Qi-based iPhones, the Apple Watch, and the ‌AirPods‌, using a specially designed ‌AirPods‌ Wireless Charging Case, which Apple introduced in March 2019.
Apple's AirPower was proprietary and intended to combine at least two different wireless charging methods -- Qi and then the Apple Watch charger, which is inductive and not Qi based.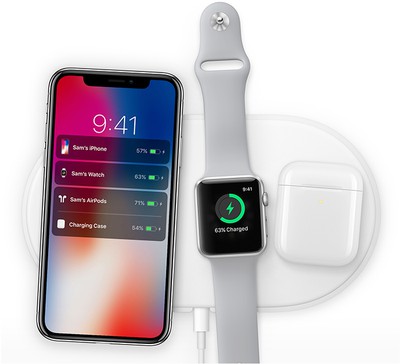 It was designed so that you could place an ‌iPhone‌, ‌AirPods‌, or Apple Watch on any portion of the mat to have the device charge, which meant multiple overlapping chargers must be included.
The AirPower mat would have been big enough to charge all three devices at one time, with the AirPower itself connected to an external power source, perhaps using a USB-C cable.
In Apple's renderings, AirPower also had a feature that let the ‌iPhone‌ display the wireless charging level of all of the devices on the mat, including the ‌iPhone‌ itself, the Apple Watch, and the ‌AirPods‌.
Where Is AirPower?
AirPower missed its 2018 launch date, and while Apple was quiet on the reason why, rumors suggested there were serious manufacturing issues and kinks to be worked out.
Apple was forced to delay the AirPower after having trouble dealing with the complex multi-device charging circuitry, software bugs, and the potential for overheating.
Over the course of 2018, Apple was working out kinks including heat management, inter-device communication, and interference issues, and there were times during development where rumors suggested Apple could potentially be planning to nix the AirPower, but there were consistent mentions in 2018 iPhone packaging, and recently an image of the AirPower with an iPhone XS was spotted on Apple's website.


Unfortunately, those technical challenges proved to be too much, and Apple ultimately canceled the AirPower project in March 2019.
When Was AirPower Supposed to Launch?
Apple announced AirPower in September 2017 alongside the ‌iPhone‌ 8, 8 Plus, and X, and said at the time that it would launch sometime in 2018.
2018 came and went, and Apple gave no further official info on when the AirPower would debut in the early months of 2019.
Rumors from Apple's supply chain in China suggested the manufacturing issues had been solved by January 2019, and according to The Wall Street Journal, Apple approved production of the AirPower earlier in the year, which suggested it could be coming soon.
Code found within iOS 12.2, an update released to the public on March 25, suggested that Apple may have been gearing up to launch the AirPower around that time. Apple also obtained an AirPower trademark around the same time, seemingly purchasing it from the company that had previously registered it. Finally, DigiTimes said we could expect the AirPower in late March.
All of those rumors and hints failed to pan out, however, and Apple ultimately canceled the launch over 18 months after the product was announced.
What Would AirPower Have Cost?
Apple never announced pricing for the AirPower, but there were some guesses. Chinese "industry insiders" in August 2018 suggested the AirPower could cost somewhere around $1,000 Chinese yuan, equivalent to right around $147.
Back in November 2017, a Polish website suggested the AirPower would cost around 999 złoty, equivalent to $199.
Given that both of these rumors came from well before the AirPower was even in production, neither were particularly reliable, but we thought it reasonable to expect a price tag in the neighborhood of $130 to $200 based on the price points of competing wireless charging devices and Apple's accessory pricing in general.
Which Devices Would Have Worked With AirPower?
‌iPhone‌ - All Qi-compatible iPhones were to work with AirPower, which includes ‌iPhone‌ 8, ‌iPhone‌ 8 Plus, ‌iPhone‌ X, ‌iPhone XS‌, ‌iPhone XS‌ Max, and iPhone XR.
‌AirPods‌ - Using AirPower with ‌AirPods‌ required the ‌AirPods‌ Wireless Charging Case, which Apple introduced in March 2019.
Apple Watch - AirPower would have worked with the Apple Watch Series 3 and later. It would not have been compatible with Series 2 and older watches.
AirPower Rumors
AirPower was announced in September 2017, and at the time, Apple promised a 2018 launch date. Multiple rumors initially suggested a possible March 2018 release, but March came and went, and there was also no sign of AirPower at WWDC in June or at the September ‌iPhone‌ event.
After its September ‌iPhone‌ event, Apple wiped almost every mention of the AirPower from its website, and rumors later in September indicated that Apple was having problems with overheating, interference, and software.
Dire reports suggested the AirPower was doomed to fail if engineers couldn't solve a number of issues plaguing the device, but when the ‌iPhone XS‌ and XS Max launched a bit later in September, we found AirPower documentation, suggesting work on the device was still underway.


In October 2018, we heard the AirPower was going to be released in late 2018 or early 2019, but after Apple's October 30th event came and went with no AirPower mention, it became clear Apple wasn't going to make its 2018 deadline.
In December, Apple was still mentioning the AirPower in job listings, and then in early January, refreshed rumors hinted that mass production would soon start. AirPower was also mentioned in the product description for the recently released Smart Battery Case in some countries, and in January 2019 DigiTimes said it was still coming "later in 2019."
MySmartPrice, a site with a mixed track record when it comes to rumors, said that Apple's AirPower would be thicker than expected due to an 8-7-7 coil configuration and that it would launch in spring 2019.