Gurman: Apple Aims to Release AirPower By September
Apple aims to release its multi-device AirPower charging mat "before or in September," after facing a handful of technical challenges with its hardware and software, according to well-connected reporter Mark Gurman.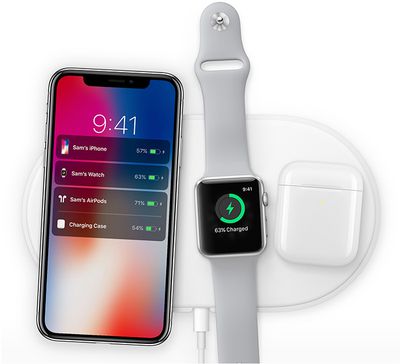 An excerpt from his Bloomberg News story:
Apple didn't say when in 2018 it would release AirPower, but engineers hoped to launch the charger by June. The aim now is to put it on sale before or in September, according to one of the people. In recent months, some Apple engineers have ramped up testing of the device by using it as their charger at the office, another person said.
Apple first previewed the AirPower alongside the iPhone X in September 2017. At the time, the company's marketing chief Phil Schiller said it would be available in 2018, as reflected on Apple's website. Pricing has not been disclosed.
Gurman says Apple engineers initially hoped for a June launch, presumably at WWDC 2018, but noted the AirPower has been delayed due to technical challenges, including the potential for overheating, complex multi-device charging circuitry, and software bugs with the accessory's on-board firmware.
AirPower is said to include a custom Apple chip running "a stripped down version of iOS" for power management and pairing with devices:
The AirPower charger is also more advanced than the current competition because it includes a custom Apple chip running a stripped down version of the iOS mobile operating system to conduct on-device power management and pairing with devices. Apple engineers have also been working to squash bugs related to the on-board firmware, according to the people familiar.
AirPower is an oval-shaped mat that can inductively charge multiple Apple devices at once, including the iPhone 8, iPhone 8 Plus, iPhone X, and Apple Watch Series 3 models. It will also be able to charge AirPods when they are placed in a new, optional charging case set to launch alongside AirPower.
AirPower's ability to charge multiple devices is derived from propriety technology developed by Apple. Apple said it will work to have its technology become part of the universal Qi standard, supported by the latest iPhones, so that other third-party manufacturers can release multi-device charging mats.
AirPower is another step towards Apple's goal of a wireless future. Gurman says Apple designers eventually hope to "remove most of the external ports and buttons on the iPhone," noting Apple even considered removing wired charging from the iPhone X, but decided wireless charging was not yet fast enough.
Of course, the AirPower is not truly wireless, as power is supplied to the mat with a charger connected via Lightning cable.