2024 iPad Pro to Feature Even Thinner Design
Apple's next-generation iPad Pro models could sport an even thinner design thanks to new display components, recent reports suggest.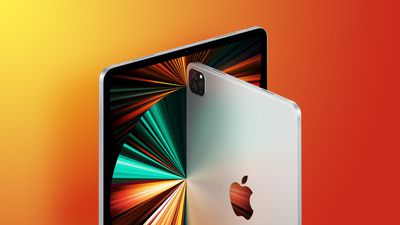 The main feature rumored for the next-generation ‌iPad Pro‌ models is an OLED display – an upgrade that has been rumored for over a year and is now expected to arrive in 2024. The OLED displays Apple is planning to use will reportedly be more durable and enable thinner and more lightweight device designs, and they could have slimmer bezels with the display size options increasing from 11- to 11.1-inches and 12.9- to 13-inches.
According to DigiTimes, Apple's "hybrid" OLED technology could allow for slimmer devices while lowering production costs. By combining rigid OLED glass substrates with flexible OLED thin-film encapsulation, the hybrid OLED technology is said to make OLED panels thinner than rigid OLED panels. The process also reportedly incurs lower production costs than flexible OLED panels because it does not require a backlighting layer.
The current 11-inch ‌iPad Pro‌ is 5.9mm thick, while the 13-inch model is 6.4mm thick. The thinnest ever Apple device was the seventh-generation iPod touch, which came in at 5.4mm thick – so it's not out of the question for the ‌iPad Pro‌ to become the thinnest ever Apple device in 2024 if over half a millimeter is shaved off it.
The ‌iPad Pro‌ has had the same design for four successive generations since 2018, and it looks like the device could finally get a redesign in its next incarnation. It is not entirely clear what the new design could look like, but a glass back or larger glass Apple logo to enable wireless charging seems plausible based on current rumors. The device could also switch from a default portrait orientation to a landscape design – something seemingly supported by the relocation of the iPad mini's volume buttons and the latest entry-level iPad's landscape front-facing camera.
The one thing that is clear about the next major ‌iPad Pro‌ update according to rumors is that it will not launch in 2023, meaning that any new ‌iPad Pro‌ models this year seem very unlikely. Apple waited over 18 months between the 2021 and 2022 ‌iPad‌ Pros, and if a similar timeline was followed again, the next-generation ‌iPad Pro‌ would launch in May 2024.