Apple's Next Major Display Upgrade Coming to Three Devices
Apple's next major display upgrade is set to come to three devices initially, according to multiple recent reports.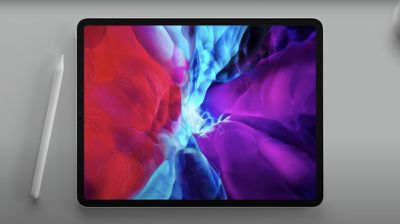 Apple introduced its first true mini-LED display with the 12.9-inch iPad Pro in 2021, having previously experimented with very similar technology in the Pro Display XDR that launched in 2019. In late 2021, Apple launched two more mini-LED devices, the 14- and 16-inch MacBook Pro models. Compared to traditional LCDs, mini-LED backlighting offers benefits like higher brightness, improved contrast, and deeper blacks, but in the long term, it appears that Apple is planning to transition to OLED technology, which can deliver many of the benefits of mini-LED but with even better contrast, wider viewing angles, and no blooming effect.
ETNews claims that LG Display is preparing to supply Apple with OLED display panels destined for upcoming iPad models, with mass production set to begin in 2024. This claim has been echoed by The Elec, which has also said that Samsung is investing in production capability for OLED iPads in 2024. Another report says that China's BOE Technology is preparing to supply Apple with OLED displays for future MacBook models, in addition to upcoming iPads.
BOE and Samsung are believed to be testing two-stack tandem OLED technology, which can offer increased brightness and longevity. This makes two-stack tandem OLED displays more suitable for devices like iPads and MacBooks, since they are often used for a longer period of time than smartphones. LG is similarly developing technology to prioritize improved brightness, longevity, and durability for OLED devices with bigger screens.
Overall, a plethora of reports suggest that Apple is planning to launch two ‌iPad Pro‌ models in 11- and 12-inch sizes, both with Gen 6 OLED display panels, in 2024, followed by the company's first OLED MacBook in 2025. The Elec has explained that LG is planning to use its Gen 6 OLED production lines for 11-inch and 12.9-inch ‌‌iPad‌‌ models, which will debut at some time earlier than the first OLED MacBook. Since the launch of the OLED MacBooks around 2025 will come after Apple's first two OLED iPads, LG is planning to use larger substrates such as Gen 8.5 since more panels can be cut out per substrate in less time.
Renowned Apple analyst Ming-Chi Kuo has suggested that the launch of Apple's first MacBook with an OLED display is dependent on the successful launch of 11-inch and 12.9-inch OLED ‌‌iPad‌‌ models in 2024.
Even further in the future, the next step after OLED for Apple's display technology is likely to be foldables, with both foldable iPad and MacBook models rumored to be in the works.