AirPods 3 Are Better Than AirPods Pro in One Way
Apple recently introduced its third-generation AirPods, featuring a new design, spatial audio, Adaptive EQ, MagSafe charging, sweat and water resistance, longer battery life, and more. The standard AirPods are now more similar to the AirPods Pro than ever before, with the new earbuds actually surpassing the higher-end in-ear option with one improved feature.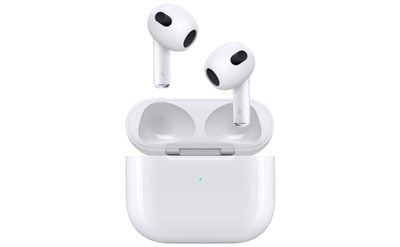 Apple's third-generation AirPods have almost all of the same features as the ‌AirPods Pro‌, with the new AirPods only missing out on silicone in-ear tips, Active Noise Cancellation, and Conversation Boost. Briefly outlined in the press release for the new AirPods, Apple explained that there is an all-new skin-detect sensor:
A new skin-detect sensor accurately discerns if AirPods are in the ear — versus in a pocket or on a table — and pauses playback when removed.
Instead of skin-detect sensors in each earbud, the ‌AirPods Pro‌ use dual optical sensors to detect if they are in a user's ear. While they effectively perform the same function, the optical sensors can simply tell when they are against a surface or covered up, rather than specifically against skin. This means that if you put an ‌AirPods Pro‌ earbud in a pocket or on a surface, it could accidentally resume playback.
According to industry insiders speaking to the Taiwanese research firm TrendForce, the new skin-detect sensor works by detect water content in the wearer's skin, which ensures that it does not mistake pockets, tables, or other surfaces for skin.

It seems highly likely that the next generation of AirPods Pro will also adopt this skin-detect sensor, but for now, the third-generation AirPods retain just one improvement over their high-end siblings.
The third-generation AirPods are available to order now for $179 and are set to launch on Tuesday, October 26.