iPhone 13 Missing Out on Key Feature, Some People Refuse to Upgrade
Apple's iPhone 13 lineup continues to lack a fingerprint scanner, despite initial rumors that the new models would feature under-display Touch ID technology.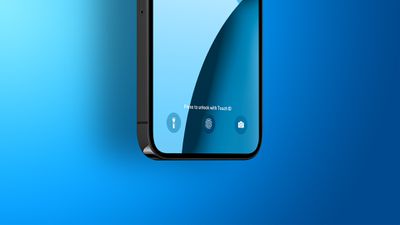 All of the flagship iPhone models since the launch of the ‌iPhone‌ X in 2017 have forgone a fingerprint scanner in favor of Face ID authentication. Almost four years later, there was speculation that the ‌iPhone 13‌ might finally bring the feature back.
Rumors around the ‌iPhone 13‌ have occasionally referred to the development of a fingerprint scanner for the next-generation smartphone. Apple is believed to have tested a Touch ID fingerprint scanner for the ‌iPhone 13‌, and the Wall Street Journal's Joanna Stern suggested that Apple was working on an optical under-display sensor to facilitate the feature in a modern, all-screen design.
With the launch of the 2020 iPad Air, Apple put the ‌Touch ID‌ sensor in the top button, which increased speculation that the ‌iPhone 13‌ could do the same. In spite of this development, the ‌iPhone 13‌ does not have a ‌Touch ID‌ power button.
Adding a fingerprint scanner to the ‌iPhone‌ would give it the ability to perform dual biometric authentication, allowing for the use of both ‌Touch ID‌ and ‌Face ID‌ for maximum security or even faster unlocking.
Unfortunately, all indications are now suggesting that under-display ‌Touch ID‌ did not "make the cut" for the ‌iPhone 13‌ models and Apple will instead continue to focus solely on ‌Face ID‌. Bloomberg said that Apple is focusing on ‌Face ID‌ and is planning to embed ‌Face ID‌'s TrueDepth camera array under the screen for an all-screen ‌iPhone‌ design in the future, rather than add ‌Touch ID‌ back on a flagship device.
A recent survey of Android users indicated that the main reason users of the rival platform will not consider upgrading to an ‌iPhone 13‌ model is the continued lack of a fingerprint scanner for authentication, which is a very common feature on Android handsets. This suggests that Apple may have some difficulty persuading users to upgrade or switch to an ‌iPhone 13‌.
Under-display ‌Touch ID‌ technology could still be implemented in a future ‌iPhone‌, with the reliable analyst Ming-Chi Kuo saying that Apple could add the feature to some new iPhone models in 2022.