Apple Discontinues 5.4-Inch iPhone 13 Mini, Still Sells iPhone 13 and iPhone 14
With the launch of the new iPhone 15 models, Apple has discontinued the iPhone 13 mini, the last remaining flagship iPhone under six inches. Apple only made two 5.4-inch ‌iPhone‌ minis, the iPhone 12 mini and the ‌iPhone 13‌ mini.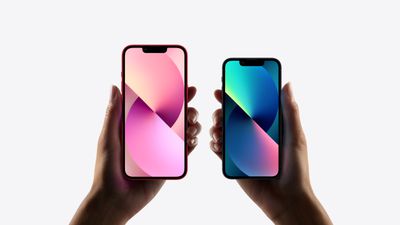 The ‌iPhone 12 mini‌ was discontinued with the launch of the iPhone 14, leaving the ‌iPhone 13‌ mini as the only smaller flagship option. The iPhone SE is still available to those who want something smaller than 6.1 inches, but it does not have modern features like Face ID.
Apple is continuing to sell the ‌iPhone 13‌ and the ‌iPhone 14‌ as lower-cost options that are offered as an alternative to the ‌iPhone 15‌. The ‌iPhone‌ 12 has also been discontinued and replaced with the ‌iPhone 13‌, which has dropped in price. Apple's full device lineup is as follows:
iPhone SE - $429
iPhone 13 - $599
iPhone 14 - $699
iPhone 15 - $799
iPhone 15 Plus - $899
iPhone 15 Pro - $999
iPhone 15 Pro Max - $1199
While the ‌iPhone 13‌ mini and the ‌iPhone‌ 12 have been discontinued by Apple, they may still be available from the refurbished store while supplies last, and third-party retailers will also have some stock available until it sells out.