Leak Reveals Four Major iPhone 13 Camera Features
The iPhone 13 models will offer at least four significant new camera software features, recent reports have suggested.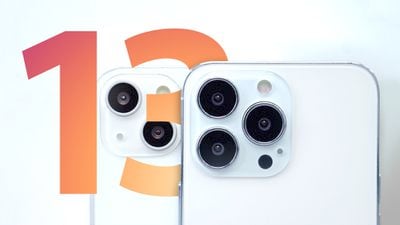 According to a report from reliable Bloomberg journalist Mark Gurman, Apple plans to introduce a new camera feature called "Cinematic Video" on the ‌iPhone 13‌. Cinematic Video would effectively bring Portrait Mode to video, allowing users to record footage with an added sense of depth-of-field and bokeh effect behind the subject, and even change the intensity of the effect after recording.
Apple first added Portrait mode to the iPhone 7 Plus in 2016, and it quickly became a fan favorite. The feature can put a person in sharp focus while blurring the background in what is known as a bokeh effect. For the new iPhones, Apple plans to add this same technique to video with a feature internally dubbed Cinematic Video. Like with still photos, the iPhone's depth sensor will create the effect and allow users to change the amount of blur after recording.
The ‌iPhone 13‌ will also offer new photo filter features, in what could be a more advanced version of the existing photos features that are currently available, according to Gurman. Instead of applying a static filter to the entire photo, the upcoming iPhones will precisely apply "changes to objects and people across the photos using artificial intelligence."
Another feature will let users better control the look of colors and highlights in their pictures. Users will be able to choose from several styles to apply to their photos, including one for showing colors at either a warmer or cooler temperature while keeping whites neutral. Another option will add a more dramatic look with deeper shadows and more contrast, and the company is planning a more balanced style for showing shadows and true-to-life colors with a brighter appearance.

The feature will differ from standard filters, available in the iPhone's Camera app since 2013, by precisely applying changes to objects and people across the photos using artificial intelligence, rather than applying a single filter across the entire picture.
Finally, Gurman claimed that the ‌iPhone 13‌ Pro and ‌iPhone 13‌ Pro Max models will feature the ability to record ProRes video, a much higher quality video format. Similar to how the ProRaw format for photos is exclusive to the iPhone 12 Pro and iPhone 12 Pro Max models, Gurman said that ProRes may also be exclusive to the ‌iPhone 13‌ Pro and ‌iPhone 13‌ Pro Max.
A new ProRes video-recording feature will let iPhone users capture clips in a higher-quality format that gives editors more control during post-production.

The format is used by professional video editors in the film industry and isn't normally intended for the mass market in part because of its large file sizes. ProRes will record in either HD and 4K resolutions on the next iPhones.

The ProRes feature would follow last year's addition of ProRAW, a higher-quality still photo file format that gives professional editors more control. Like with ProRAW, the ProRes video recording may be exclusive to the pricier Pro models.
As well as these three new camera software features, leaker Max Weinbach has suggested that the ‌iPhone 13‌ may offer new astrophotography features to take better pictures of the night sky. The mode will apparently allow the ‌iPhone‌ to detect different objects such as the moon and stars, and adjust settings such as exposure accordingly.
Major design changes for Apple's new iPhones are not expected this year, but we can likely count on a number of camera improvements, ProRes video recording, a 120Hz ProMotion display, a smaller notch, a faster A-series processor, and a new 5G chip from Qualcomm.
The new devices are believed to be just a few weeks away, with most signs currently pointing to a September 14 event date. For all the details on what to expect in the ‌‌iPhone 13‌‌ series, check out our comprehensive roundup.