Unexpected iPhone 13 Rumor Hints at Satellite Feature That Android Can't Match
The iPhone 13 lineup will offer a revolutionary new feature that Android competitors have yet to be able to match, according to a late-stage report from the reliable analyst Ming-Chi Kuo.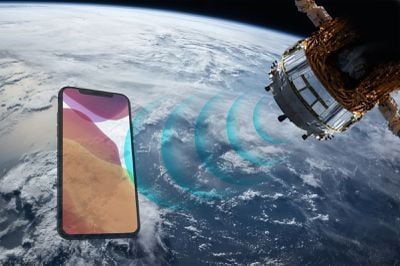 In a note to investors, seen by MacRumors, Kuo explained that the ‌iPhone 13‌ contains a customized Qualcomm X60 baseband chip that supports low earth orbit (LEO) satellite communications. If enabled with the relevant software features, this could allow ‌iPhone 13‌ users to make calls and send messages without the need for a 4G or 5G cellular connection.
SpaceX's Starlink, headed by Elon Musk, is a purveyor of LEO internet connectivity that some readers may already be familiar with, but the LEO satellite communication service provider that is "most likely to cooperate with Apple in terms of technology and service coverage" is said to be an American company called Globalstar. Qualcomm has purportedly been working with Globalstar to support the n53 band in future X65 baseband chips.
According to Bloomberg's Mark Gurman, the feature could allow users to send short grey-colored messages in emergency situations when there is no signal available and make calls to report major emergencies.
Kuo explained that the "simplest scenario" for providing LEO connectivity to iPhone users is if individual network operators work with Globalstar. This means that customers of a partner network operator could use Globalstar's satellite communication service on the ‌iPhone 13‌ directly through their network operator with no additional contracts or payments required.
Android smartphone brands are apparently behind Apple in terms of development and waiting until at least 2022 to adopt the X65 baseband chip necessary to implement satellite communications functions, and would also need to take the time to negotiate preliminary agreements with satellite operators.
Gurman, who has discussed Apple's satellite communications team in the past, and a number of other observers, are now casting skepticism on this late-stage rumor. He clarified that even though the ‌iPhone 13‌'s modem chips could "have the hardware needed for satellite communications," the satellite features, which will focus on emergency situations, are "unlikely to be ready before next year."
The ‌iPhone 13‌'s release date is believed to be just weeks away, and while major design changes are not expected this year, we can likely count on a number of camera improvements, ProRes video recording, a 120Hz ProMotion display, a smaller notch, a faster A-series processor, and a new 5G chip from Qualcomm. For all the details on what to expect in the ‌‌iPhone 13‌‌ models, check out our comprehensive roundup.