iPhone 13 to Bring Over a Major Feature From the Apple Watch
Apple's upcoming iPhone 13 lineup will feature an always-on display akin to the Apple Watch Series 5 and Series 6, according to recent reports.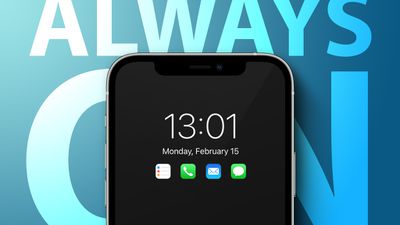 In his weekly Power On newsletter, Bloomberg journalist Mark Gurman, who often reveals accurate insights into Apple's plans, said that the ‌iPhone 13‌ may feature an Apple Watch-inspired always-on mode.
The Apple Watch Series 5 and Apple Watch Series 6 have displays that can remain on at a lower brightness and refresh rate, allowing wearers to see their watch face and complications at all times. Similar functionality on the ‌iPhone 13‌ could allow users to see information such as the time, date, and notifications at all times.
The always-on display for the iPhone would apparently be facilitated by the ‌iPhone 13‌'s larger battery and more advanced display. Previous rumors have indicated that the ‌iPhone 13‌ lineup will be receiving larger batteries, which could offset some of the added power usage of an always-on display.
At least some ‌iPhone 13‌ models are also widely expected to feature "ProMotion" capability for refresh rates up to 120Hz, making motions like scrolling and movement in games visibly smoother. This is believed to be facilitated by the use of an OLED LTPO display panel, which can vary the refresh rate while using a limited amount of power to prevent a major hit to battery life.
The device is expected to get slightly thicker and heavier to accommodate the more advanced displays and larger batteries, so the addition of always-on display functions may go some way to justifying the added bulk to users. It's possible that the always-on display feature will be limited to the higher-end Pro models that are expected to get LTPO display technology for ProMotion functionality.
Earlier this year, the leaker Max Weinbach said that the ‌iPhone 13‌ would include an always-on display, although it is worth noting that Weinbach does not have an established track record. He claimed that the always-on mode will look like a "toned down Lock screen," where the clock and battery charge remain visible, and notifications are shown through "a bar and icons."
The ‌iPhone 13‌ is also expected offer a number of other upgrades including improved performance via an "A15" chip and bolstered camera capabilities, but the design of the ‌iPhone 13‌ models is expected to be largely the same as the iPhone 12 models.