Is Apple Really Buying Bitcoin?
A large number of websites and posts on social media are stoking rumors that Apple has purchased $2.5 billion worth of bitcoin in the company's first move into cryptocurrency, but is there any validity to the claims?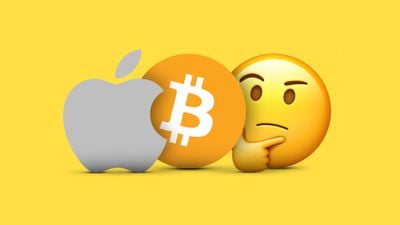 Many people are citing the fact that Apple was looking for a Business Development Manager with experience in alternative payments, including cryptocurrency, earlier this year as proof that it is very interested in Bitcoin.
Apple stated that one of the key qualifications for the fairly senior role was at least five years of experience "working in or with alternative payment providers, such as digital wallets, BNPL, Fast Payments, cryptocurrency and etc."
While experience in cryptocurrency is not mandatory if the applicant had a background in other payment services such as "Buy Now, Pay Later," Apple's interest in decentralized digital currencies may reveal that it is one potential alternative payment method being seriously considered by the company. It may also simply be an indication that Apple is attempting to hire professionals with experience in emerging industries to ensure that it is in a position to compete with rivals if it needs to do so.
In 2019, Apple Pay vice president Jennifer Bailey said that Apple is "watching cryptocurrency," and explained "We think it's interesting. We think it has interesting long-term potential."
With little other evidence that Apple has any serious interest in cryptocurrency, let alone a specific coin, it is reasonably safe to say that the company has not officially purchased a large quantity of bitcoin. There is also significant reason to question why Apple would invest in bitcoin when there are many other available cryptocurrencies that are more sustainable and could suit specific purposes for the company.
When Tesla announced that it had bought $1.5 billion worth of bitcoin in February, the cryptocurrency spiked in value by 20 percent on the same day and soared to new highs throughout the following months. However, the cryptocurrency has slumped since May when Tesla stopped accepting Bitcoin as a payment method and said that it had environmental concerns about it.
Since then, Bitcoin speculators have been looking for news that could send the cryptocurrency's value skyrocketing once more. Rumors around Apple getting into Bitcoin are therefore likely derived from attempts to prop up the cryptocurrency's value or simply wishful thinking.