Apple is 'Watching Cryptocurrency' and Wants to Do More With Tipping and Mobile IDs
Apple Pay vice president Jennifer Bailey recently sat down with CNN anchor Christine Romans at a private event in San Francisco to discuss the future of payments, including ‌Apple Pay‌ and the Apple Card.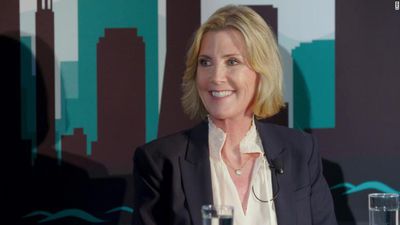 ‌Apple Pay‌ vice president Jennifer Bailey via CNN Business
As to be expected, Bailey made some boilerplate comments about the security, privacy, and ease of use of both ‌Apple Pay‌ and the ‌Apple Card‌, but she also touched on cryptocurrency, tipping, and mobile IDs.
On cryptocurrency, Bailey said it is an "interesting" field with "long-term potential":
We're watching cryptocurrency. We think it's interesting. We think it has interesting long-term potential, but we're primarily focused on what consumers are using today… and are happy with. Most people are pretty happy with their debit card as an example. And so helping people do that in a more secure way on our platform and in a more real time way is what we're focused on.
On tipping, Bailey said it is one area where Apple still needs to "work more on that":
We get that feedback a lot from customers about when they start using mobile payments and Apple Pay, they stop carrying cash. And one of the key areas where they would like us to do more is actually in tipping. You'll see in some of the point-of-sale systems now great tipping functionality if you pay with mobile payments, but still that personal touch is one area where we still need to work more on that.
‌Apple Pay‌ and the Wallet app have already provided digital alternatives to credit and debit cards, student IDs, movie tickets, boarding passes, and more. Asked what the hardest remaining item in a wallet would be to digitize, Bailey said identities, such as a driver's license or a passport:
I think the hardest thing is identity. And the reason is that identity, to be legal, has to be government issued… it has to be authenticated by the government. We see across the globe many countries starting to use mobile to add passport… you might use mobile passport when you're going through airports today. It is moving, and I think it will continue. It's not too far away… it just won't be as fast as some of the other activities we have.
Bailey also confirmed that Apple is "working on" allowing users to export their Apple Card financial data to a budgeting app like Mint.