iPhone 13 to Finally Feature Bigger Batteries
Apple appears to be improving the iPhone's battery life with the iPhone 13 lineup, using a number of design changes, bigger batteries, and efficiency improvements.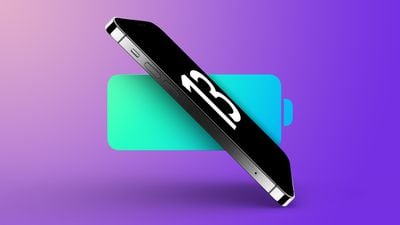 In a recent investor note seen by MacRumors, reliable analyst Ming-Chi Kuo explained that all four of the iPhone 13 models will feature larger batteries with higher capacities:
The new 2H21 iPhone models feature a larger battery capacity than the iPhone 12 series, thanks to the space-saving design of many components. Hence, the new 2H21 iPhone models are also slightly heavier than the iPhone 12. The space-saving design includes integrating the SIM card slot with the mainboard, reducing the front optical modules' thickness, etc.
The change will be implemented through a number of space-saving design choices, such as integrating the SIM card slot into the motherboard and reducing the thickness of the front-facing TrueDepth camera array.
Larger batteries in the ‌iPhone 13‌ models will presumably lead to improved battery life, in contrast to the ‌iPhone‌ 12, which saw battery sizes reduced across the board compared to the previous generation. The ‌iPhone‌ 12, 12 Pro, and 12 Pro Max have batteries 295 mAh, 231 mAh, 282 mAh smaller than their predecessors, but battery life has been largely the same due to efficiency improvements.
Since the launch of the ‌iPhone‌ 12 lineup, there have also been concerns around how 5G connectivity may hamper battery life. iPhone 12 mini, in particular, has a small battery due to its compact form factor and has faced criticism for its battery life being unable to last an entire day.
One downside of the internal design changes noted by Kuo is that the ‌iPhone 13‌ models are expected to be slightly heavier due to their larger batteries.
Changes to the display technology used in the ‌iPhone 13‌ Pro may also be responsible for improving battery life. The ‌iPhone 13‌ Pro and ‌iPhone 13‌ Pro Max are widely expected to gain ProMotion displays with variable refresh rates. As well as delivering high refresh rates up to 120Hz when needed, ProMotion also enables slower refresh rates when there is less movement on-screen to improve battery life.
In addition, the A15 chip is also likely to deliver some iterative efficiency improvements to support battery life.
The ‌iPhone 13‌ lineup is expected to arrive later this year, featuring a smaller notch, expanded sensor-shift camera stabilization, support for Wi-Fi 6E, and more.