Will There Still Be an iPhone 13 Mini?
Amid repeated signs of low iPhone 12 mini sales and cuts to production orders, whether or not Apple will release an iPhone 13 mini model later this year has come into question.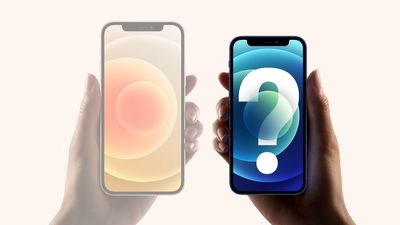 The ‌iPhone 12 mini‌ does not appear to be selling as well as Apple had hoped, making up just six percent of iPhone 12 sales in the U.S. in October and November 2020, according to data gathered by Consumer Intelligence Research Partners. Counterpoint Research has since reported that the ‌iPhone 12 mini‌ accounted for only five percent of all ‌iPhone‌ 12 sales in the U.S. in the first half of January.
Morgan Stanley believes that Apple has chosen to cut production of the ‌iPhone 12 mini‌ by two million units to create more manufacturing capacity for the more popular ‌iPhone‌ 12 Pro. This has been mirrored by a Taiwanese report, citing supply chain sources, which said that strong demand for ‌‌iPhone‌ 12 Pro‌ models in China has led Apple to increase its supply of the more expensive devices.
Most strikingly, JPMorgan Chase has claimed that Apple plans to halt ‌iPhone 12 mini‌ production entirely in the second quarter of 2021, although this would almost certainly be a temporary pause to sell through existing stock rather than a complete discontinuation.
In spite of these reports, it is understood that Apple is not giving up on its 5.4-inch model yet. A multitude of reports about the ‌iPhone 13‌ lineup have mentioned the 5.4-inch ‌iPhone 13‌ mini model, dating back to the earliest reports of the ‌iPhone 13‌ series. Apple is expected to release four ‌iPhone 13‌ models in the same three sizes as the ‌iPhone‌ 12 series.
While the sales reports for the ‌iPhone 12 mini‌ may have been disappointing, Apple plans its ‌iPhone‌ production and supply chain operations well in advance of launch. Moreover, there is an argument to suggest that the ‌iPhone 13‌ mini may not suffer as severely from some of the issues that have mired the iPhone 12 mini, such as the impact of the global health crisis and the attraction of cheaper ‌iPhone‌ models such as the iPhone SE.
Most recently, hit-and-miss Apple leaker Jon Prosser claimed that the ‌iPhone 13‌ mini will indeed materialize later this year, with the accompanying claim that there will be no new "2021" ‌iPhone SE‌, of which the current model may have cannibalized some ‌iPhone 12 mini‌ sales.
Overall, in contrast to the projected sales figures, "mini" fans still have good reason to be cheerful as the launch of the ‌iPhone 13‌ lineup edges closer.