iPad Pro Getting Thicker in 2021 to Fit New Technology
Apple's affinity for thin and light product designs is well-known, so it is not often the case that the company chooses to make its existing products thicker. This year, Apple's largest and most expensive iPad offering, the 12.9-inch iPad Pro, is looking to buck the trend and get thicker, according to recent reports.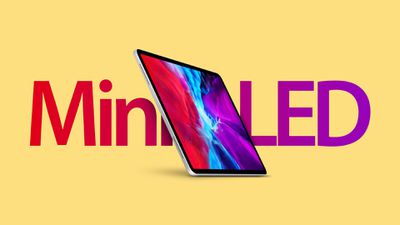 Alleged factory CAD drawings leaked in January revealed that, as expected, the 2021 ‌iPad‌ Pros will look largely the same as the current models. However, a recent report from Mac Otakara has said that the 12.9-inch ‌iPad Pro‌ will be about 0.5mm thicker than the current model, placing it around 6.4mm, a change that could be needed to accommodate a mini-LED display.
The ‌iPad Pro‌ has long been rumored to be the first device to get a mini-LED display. Mini-LED displays offer impressive wide color gamut performance, high contrast and HDR, and local dimming, which dims the backlight behind black areas of the screen while keeping bright parts lit for truer blacks and improved contrast.
The rumor of a mini-LED 12.9-inch ‌iPad Pro‌ coming in the first half of this year has been heavily corroborated by analyst Ming-Chi Kuo, DigiTimes, The Elec, and Korea's ETNews. There has been no mention of an 11-inch model with mini-LED however, with the high-end display technology expected to be kept on the larger ‌iPad Pro‌ model only.
Analyst Ming-Chi Kuo has previously said that Apple's mini-LED displays will allow for thinner and lighter product designs, but more recent rumors have contradicted this, saying that mini-LED will make the ‌iPad Pro‌ thicker. There may also be other internal changes contributing to differences in the device thickness, so we'll have to wait to see how it all comes together in the final product.
Mac Otakara also said that the ‌iPad Pro‌'s the rear cameras will protrude less on the upcoming models, likely due to the device's increased thickness. The overall camera bump apparently remains, but the protrusion of the individual camera lenses is no longer required, leaving a flat camera system under one continuous piece of glass.

The current 12.9-inch ‌iPad Pro‌ is 5.9mm thick, so with an increase of 0.5mm taking the device to 6.4mm, it is unclear if the device will still be compatible with Apple's Magic Keyboard accessory.
The Magic Keyboard that was initially designed for the 11-inch ‌iPad Pro‌, which is 5.9mm thick, also works for the fourth-generation iPad Air, which is 6.1mm thick. So while it is clear that the accessory can accommodate iPads of slightly different thicknesses, it is unknown if it will be able to handle an ‌iPad‌ that is as much as 0.5mm thicker than the current model. If this is the case, Apple may need to release a new Magic Keyboard accessory for the thicker 12.9-inch ‌iPad Pro‌ this year.
The updated 12.9-inch ‌iPad Pro‌ is rumored to arrive in the first quarter of this year. For more on what to expect from the 2021 ‌iPad Pro‌, see our "What's Next for iPad Pro" roundup.