iPad Pro to Be First Apple Device Featuring Breakthrough New Display Technology
Apple's 2021 12.9-inch iPad Pro is widely expected to be the first Apple device to feature advanced mini-LED display technology, before it expands to other devices throughout 2021 and 2022.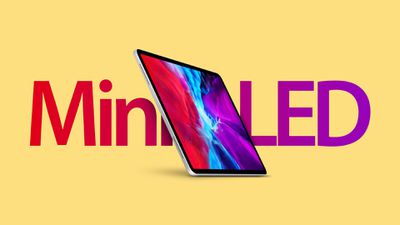 Mini-LED displays offer impressive wide color gamut performance, high contrast and HDR, and local dimming, which dims the backlight behind black areas of the screen while keeping bright parts lit for truer blacks and improved contrast. Unlike the iPhone, which has offered more advanced OLED displays since the iPhone X, all iPad displays are still LCDs.
The rumor of a mini-LED 12.9-inch iPad Pro coming in the first half of this year has been heavily corroborated by analyst Ming-Chi Kuo, DigiTimes, The Elec, and Korea's ETNews. There has been no mention of an 11-inch model with mini-LED however, with the high-end display technology expected to be kept on the larger iPad Pro model only.
Apple's mini-LED displays are expected to use approximately 10,000 LEDs, with each one less than 200 microns in size, and be supplied by Innolux. Production on the mini-LED display panels for the 2021 12.9-inch iPad Pro is already underway, according to Ming-Chi Kuo. Mac Otakara believes that the 12.9-inch model could also be about 0.5mm thicker to accommodate the new mini-LED panel.
Apple is also expected to expand mini-LED across its product lines this year, with as many as six products gaining the display technology. These could include an iMac Pro, MacBook Pro, iPad, and iPad mini, with more devices such as the MacBook Air to follow in 2022.
The updated 12.9-inch iPad Pro is supposed to arrive in the first quarter of this year. For more on what to expect from the 2021 iPad Pro, see our "What's Next for iPad Pro" roundup.